China 'willing' to seek EU investment treaty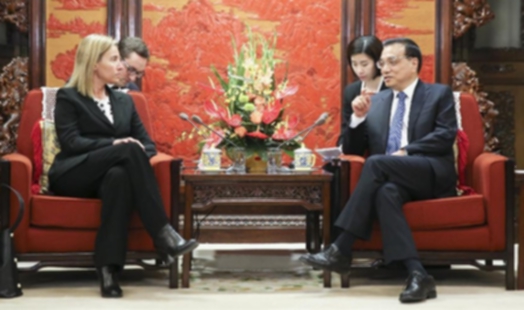 China Daily 2015-05-07
China 'willing' to seek EU investment treaty
Premier calls for pressing forward negotiations in meeting with visiting high representative
Premier Li Keqiang said the economic goals of China and the European Union can dovetail naturally with a win-win strategy.
Li made the remark in Beijing during a meeting with Federica Mogherini, the high representative of the European Union for foreign affairs and security policy. Mogherini is also vice-president of the European Commission.
Li said in a written statement that China wants to ensure stable economic growth through reforms and opening-up. A closer relationship in trade and investment, Li said, will contribute to both sides' ability to deal with the global economic recession.
"China is willing to push forward talks for a bilateral investment treaty" built on the idea of equal treatment for investors and Chinese companies, he said, adding that a treaty would include a "negative list" - a narrow list of areas off-limits to outside investors.
Li praised the progress made in China-EU relations since the two established bilateral ties 40 years ago, saying that a well-managed relationship will have a positive impact on regional and global peace and stability.
Li also said China and the EU should communicate better on climate change and work out a sustainable path toward environmental sustainability.
Mogherini, who visited China shortly after taking her position, said she sees relations with China as a priority and believes the upcoming EU-China leaders' summit will be a key moment to strengthen and expand their ties.
The EU looks forward to Li's attendance at the summit, which is designed to boost mutual investment and economic cooperation, Mogherini said.
Mogherini is leading an EU delegation at a regular strategic dialogue with top Chinese officials, where the two sides exchange views and develop political and economic common ground.
She told Xinhua News Agency in an earlier interview that she would discuss a number of crises, such as the situations in Ukraine, the Middle East, Afghanistan and Libya, as well as discuss how to prevent others.
The EU is China's biggest trading partner, while China is the EU's second-largest. Bilateral trade stood at 467 billion euros ($519 billion) last year.
---