Chinese, Chilean FMs hold talks to deepen bilateral cooperation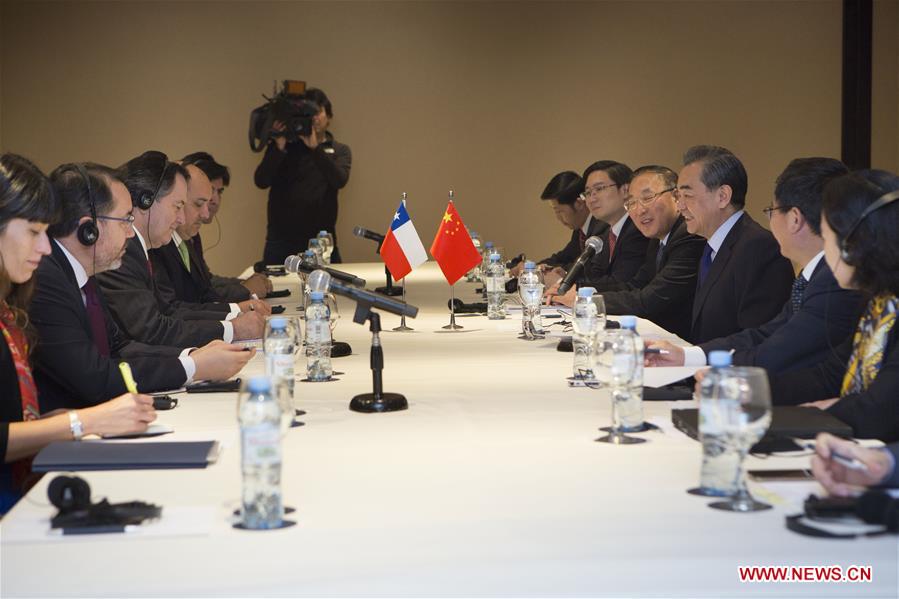 Xinhua | 21 May 2018
Chinese, Chilean FMs hold talks to deepen bilateral cooperation
Buneos Aires: China expects Chile to continue to play an active and exemplary role in jointly building the China-proposed Belt and Road Initiative with Latin America, Chinese State Councilor and Foreign Minister Wang Yi said here Sunday.
Wang said China appreciates the Chilean government's firm effort in developing ties with China, and China is willing to link the Belt and Road Initiative with Chile's infrastructure investment plan to further the beneficial cooperation in sectors such as infrastructure, connectivity, and cultural and people-to-people exchanges for common prosperity.
Wang made the remarks when meeting with his Chilean counterpart Roberto Ampuero during the ministerial meeting of the Group of 20 (G20) in Buenos Aires, capital of Argentina.
Chile is China's friend in Latin America and though being far away from each other, the two nations are closely connected by open concepts and a free trade agreement, Wang said.
China and Chile have witnessed a rapid growth in bilateral economic and trade cooperation, which has benefited the people of both countries, added Wang.
China is confident in the prospect of the comprehensive strategic partnership between China and Chile, said Wang.
Ampuero said Chile highly values and actively supports the Belt and Road Initiative, and hopes that it will be extended to Latin America.
He said the two countries have enjoyed a very good relationship and Chile appreciates China's role in safeguarding free trade and an open world economy, which is an important cornerstone for Chile's diplomatic policy.
Chile firmly upholds the one-China policy and appreciates China's efforts in maintaining the stability in the South China Sea and promoting a political solution to the nuclear issue on the Korean Peninsula, Ampuero said.
Chile expects to strengthen high-level exchanges with China, expands mutually beneficial cooperation and enhance exchanges in culture, education and other areas, said Ampuero.
He welcomes Chinese enterprises to come to invest in Chile, adding that Chile is willing to become China's gateway to Latin America.
---