Colombian steelworkers plan strikes against FTA with Turkey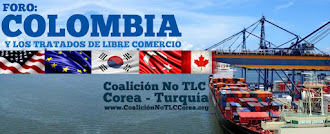 Business News Americas | Thursday, 27 Sep 2012
Colombian steelworkers plan strikes against FTA with Turkey
BNamericas reported that workers from Colombia's Sintrametal metalworkers union are planning strikes and blockades to call on the government to refrain from signing the free trade agreement being negotiated with Turkey.
Mr Mauricio Castro president of Sintrametal said that "In order to call government attention to the increased imports of steel products we're seeking alliances with different sectors such as transport and local communities to start protests to demand that the FTA being negotiated with Turkey will not be signed."
Mr Castro said that the union has been talking to workers and local communities explaining why it considers certain measures must be taken, such as blocking the road linking Bogota to Tunja, capital of Boyacá department. It's only through such measures that we'll be able to get a response from the government. We've met with the ministry of labor to address our concerns and no solution was offered."
Concerns arose when the government began moving forward with negotiations for a free trade agreement with Turkey which produces and exports steel, churning out 34 million tonne per year. According to the official, the protests are not in vain but to support local jobs in the industry.
Source - Business News Americas
---