Costa Rica: March against impacts of CAFTA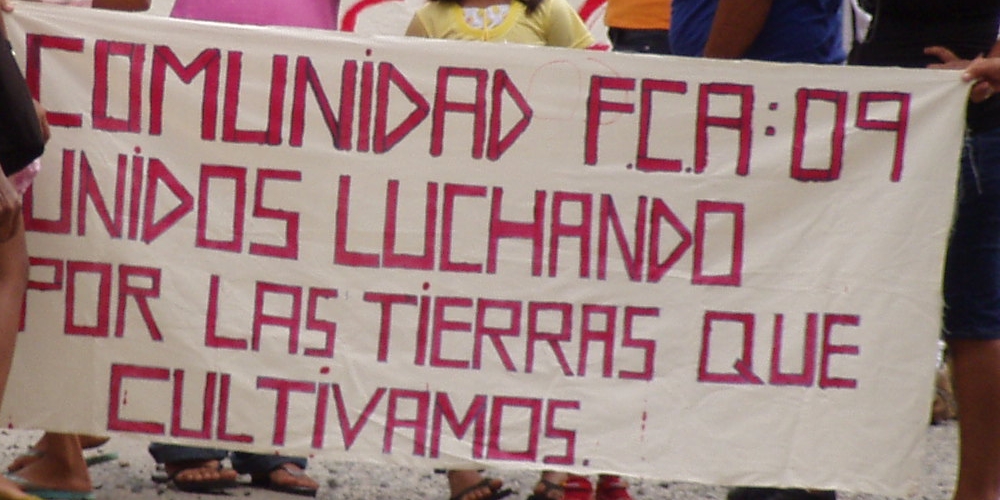 Indymedia | Sunday, October 11 2009
Costa Rica: March Against Impacts of the Free Trade Agreement
by Little Sisters Collective
On 6 October, two years after the fraud that ordered the adoption of the FTA with the U.S. (the TLC in spanish), there was a People's Walk for Dignity in the Southern Zone of Costa Rica. More than 150 activists marched from the entrance of Térraba Territory to the center of the township of Buenos Aires. Step by step the the march was traveling the 13 kilometers. Different communities around the wide, long and deep struggle in the South face off against pineapple expansion, the construction of the "PH Diquís", the construction of international airport in the territory of Finca 9, plans to build and deploy sea tuna farms in Golfo Dulce and for the law of indigenous autonomy.
The southern area is one of the poorest regions of Costa Rica. Since the 1930s the United Fruit Company decided to transfer its banana plantations from the Caribbean coast to the Pacific coast of Costa Rica's Southern Zone. Since then the monocultures and cattle ranchers dominate the landscape in this part of the country.
The March Chronicle:
From 8 am people gathered at the entrance of Indian territory Térraba to march on the Inter-American Highway South, a major transit route and transportation movement in the area.
Once we had taken the road, occupying both lanes of the Inter-American, the hot burning of sun came down on the march. At 8:30 am 100 activists came with the "People's Walk for Dignity in the South." From the start the Police arrived with few units in small motorbike or on patrols. The actions of the police were limited to regulating traffic and almost did not intervene in the organization of the march.
With small breaks the protesters headed to Buenos Aires out flyers to passing cars and people living on the roadside. During the march, more people joined the protesters and the group grew to 150 people. Some of the participants walked out of their communities at 2 am to participate in the march.
Full Report with Video, PDFs of the flyers from the march, photos, and audio interviews:
http://www.indymedia.org/en/2009/10/929894.shtml
---