Costa Ricans march against US free trade agreement
Costa Ricans March against US Free Trade Agreement
San Jose, Oct 25, 2005 (Prensa Latina)
Costa Rica University students peacefully marched to the National Assembly on Tuesday, expressing their rejection of the signing of a Free Trade Agreement with the United States.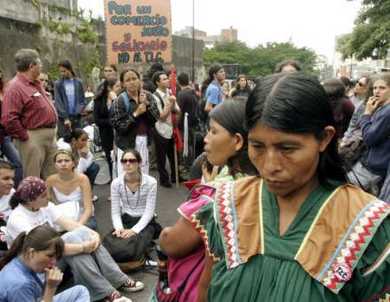 "The FTA will directly affect education and public institutions," University Student coordinator Cesar Lopez said.
The march took place after President Abel Pacheco sent the project for the agreement between Central America, the Dominican Republic and the US (CAFTA) to Congress.
"The government's decision triggered a red alert," warned union and other social leaders who called for other protest activities.
A protest by National University students is scheduled for Wednesday in the northern city of Heredia.
Unions and other social organizations will stage the first mass protest against CAFTA on November 7, organized by the Association of Public and Private Workers.
Students and workers from the Costa Rican Electricity Institute (ICE), the Aqueduct and Sewer System, the state health care system and the Insurance Institute (INS) will also take part in the protest.
ICE and INS are among those most vocally opposed to the agreement as it entails privatization of state-run telecommunications, internet, and insurance enterprises.
---