Details of China-Taiwan Economic Cooperation Agreement released
Asia Briefing | 6-9-2010
Details of China-Taiwan Economic Cooperation Agreement released
Sept. 6 – More information has come through recently regarding the specific goods and services that will likely be affected by the China-Taiwan Cross Straights Economic Cooperation Framework Agreement (ECFA) which was signed back on June 29 in Chongqing, China.
The ECFA is largely regarded as the most significant agreement between the two regions since civil war divided them some more than 60 years ago. The two sides are hoping that the agreement will boost bilateral trade that already exceeds US$110 billion a year.
Different from a free trade agreement, a framework agreement is designed to allow the parties involved to discuss the structure and objectives of future commitments before the eventual content is decided. Negotiations thus far have led to the creation of an "early harvest" list which will allow certain sectors of both economies to be eligible for tariff reductions and preferential market treatment.
If the ECFA is ratified by both parties in the second half of 2010, the early harvest list for trade in goods could become effective starting January 1, 2011 with the early harvest list for trade in services becoming effective soon after. The early harvest list for trade in goods will gradually reduce customs duties on a variety of products over a three year period while the early harvest list for trade in services will relax restrictions on a wide range of financial and non-financial services.
The table below shows the three-year tariff reduction schedule for Taiwanese products imported into China: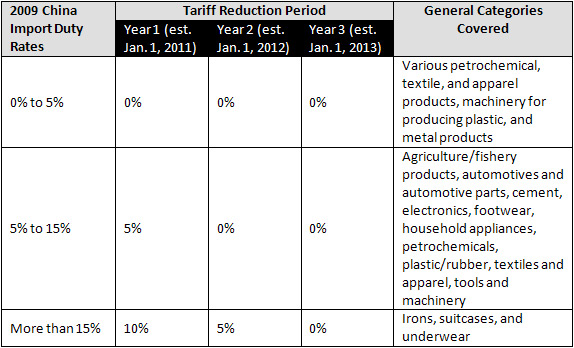 The table below shows the three-year tariff reduction schedule for Chinese products imported into Taiwan:

The table below shows the service sectors in China and Taiwan that will likely see restrictions relaxed: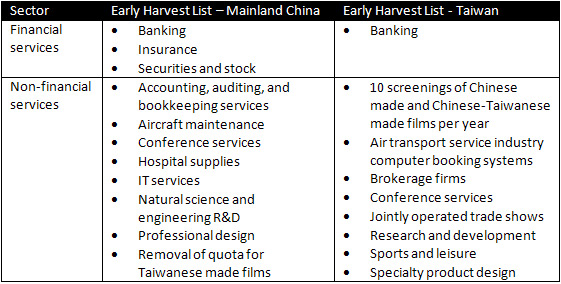 ---