Doha talks on trade may need to be ended, US envoy Kirk says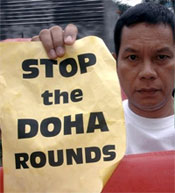 Bloomberg | May 20, 2011
Doha talks on trade may need to be ended a reality check, US envoy Kirk says*
By Mark Drajem
The decade-old Doha round of World Trade Organization negotiations may have to be revamped or ended, U.S. Trade Representative Ron Kirk said.
"We are not in good shape," Kirk said yesterday in remarks to a meeting of the Asia-Pacific Economic Cooperation group in Big Sky, Montana. "I see three possible paths: keep doing what we have been doing, give up or start thinking of something different that will lead us in a better direction."
Kirk's assessment was the most emphatic statement from President Barack Obama's administration that the long-running talks are foundering. Outside analysts such as former U.S. Trade Representative Susan Schwab have called the negotiations "doomed."
Kirk didn't say which path the U.S., the world's largest economy and biggest trading nation, favored. None of the other 20 members of APEC released their statements from the closed- door meeting held today. Pascal Lamy, director general of the World Trade Organization, the Geneva-based trade arbiter, declined to comment after the meeting.
Six months ago at a meeting in Japan, the APEC trade ministers pledged their "unwavering determination" to the current agenda for the talks.
Kirk's comments on the WTO talks contrasted with the assessment from the U.S. and eight other Pacific Rim nations negotiating the Trans-Pacific Partnership free-trade agreement. Ministers from those nations met yesterday and said they would try to reach the "broad outlines" of a regional pact before leaders from APEC meet in Hawaii in November.
Doha Agenda
The Doha Round of talks, which began in Doha, Qatar, has three primary areas of negotiation — agriculture, industrial goods and services — as well as a mix of items such as duty- free entry for goods from the poorest nations, measures to speed the flow of goods across borders and cuts in fishery subsidies.
The initial impasse in the talks was over agriculture subsidies in rich nations. In recent years, the primary discussions have been over U.S. and European Union demands that India, China and Brazil reduce tariffs on industrial goods.
Schwab, writing in the publication Foreign Affairs last month, proposed scrapping the Doha talks while harvesting parts of the packages, such as reductions in fishing subsidies, duty- free entry for goods from the poorest nations and cuts in tariffs on environmental goods.
* Bloomberg edited their title, but not the URL, at some point...
---