Don't sign revised trade pact, consumers group urges government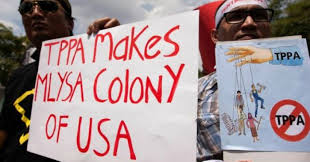 Free Malaysia Today News | 25 January 2018
Don't sign revised trade pact, consumers group urges government
A consumers group today urged the government not to sign the revised Trans-Pacific Partnership Agreement (TPPA), saying it will negatively impact the public while bringing very little benefit to Malaysians.
Saying the TPPA would have had "major bad effects" on the economy and society, the Consumers Association of Penang (CAP) added that the new agreement, known as the Comprehensive and Progressive Agreement for Trans-Pacific Partnership (CPTPP), would be even worse.
This was because there would not even be the benefit of selling more exports to the US, CAP president SM Mohamed Idris said in a statement.
His remarks followed the US' move to withdraw from the original trade pact last January.
The new agreement will be signed in March by the 11 remaining countries, including Malaysia.
Mohamed Idris said it was unwise of the government to sign on to an agreement that obliges Malaysia to undertake binding obligations to change laws and socio-economic policies which would have adverse impacts on the people.
"So far, the government has not explained in any comprehensible way why it has chosen to take this irrational step," he said, adding that the public had been kept in the dark on the recent negotiations leading up to the new agreement.
Calling on the government to reveal the contents of the new pact, Mohamed Idris said International Trade and Industry Minister Mustapa Mohamed had promised a year ago that stakeholders would be consulted on the latest developments of the TPPA as well as the way forward.
"We have been waiting for a year. The CPTPP negotiations have already concluded and still none of us have yet been consulted on it.
"We know of no civil society consultations or systematic consultation of the Malaysian private sector affected by such a decision. The Miti minister has thus broken his promise to the public," he said.
Adding that even the original TPPA text was published before legal scrubbing, Mohamed Idris said the new CPTPP text must be published immediately so the people could see what had been agreed to in their name.
He also voiced concern over provisions in the TPPA which he said gave the US "a free ride" so its companies could enjoy the benefits without the US having to give up anything.
Taking the lower tariffs on Malaysian exports to the US as an example, he said this meant that in the CPTTP, Malaysia would get the costs of the TPPA without the main benefit of increased exports to the US.
"Has the Malaysian government done a new cost-benefit analysis of the CPTPP and what were the results?"
---