Drug-tainted US beef removed from Taiwan markets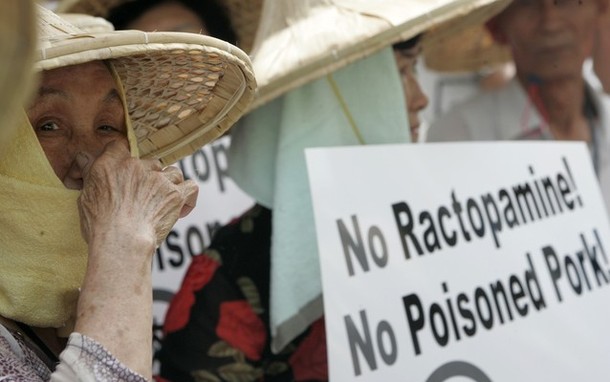 Agence France-Presse | 01/16/2011
Drug-tainted US beef removed from Taiwan markets
TAIPEI – Three shipments of US beef have been pulled from Taiwan's shelves after they were found to contain controversial drugs to promote leanness in animals raised for meat, an official said Sunday.
"Now all the US beef that may contain the residue of the leanness drug Paylean has been removed from the shelves," Chiang Yu-mei, a health official at the Taipei city government, told AFP.
She urged consumers not to panic, but local media said 1.5 tons of such beef might have already been consumed on the island.
The move came after three out of 24 US beef samples taken from three hypermarkets in the capital city were found on Friday to contain Paylean in concentrations up to 2.84 parts per billion.
The event sparked concerns from the United States, the island's leading source of beef imports.
The Office of the United States Trade Representative (USTR) said that US beef products were safe and urged Taiwan to lift its ban on leanness drugs, Taiwan's state Central News Agency said.
Taiwan, China and the European Union ban Paylean because of possible human health risks associated with the ingredient ractopamine, but 26 countries, including the United States, Canada, Australia and Brazil, have declared the product safe.
Local media said the shipments' withdrawal may cast fresh doubt on a proposed Trade and Investment Framework Agreement between Taipei and Washington.
Negotiations on the agreement have been dormant since mid-2007, when Taiwan reintroduced a ban on US bovine offal and ground beef amid a scare over mad cow disease.
Taiwan banned all US beef imports in December 2003 over fears of the disease, but in 2006 relaxed the rules to permit imports of boneless beef.
Taiwan moved in October 2009 to allow US beef on the bone, cow organs and minced beef, but this met with a public outcry and the decision was overturned in January last year.
---