East Africa: Trade bloc merger talks end with May date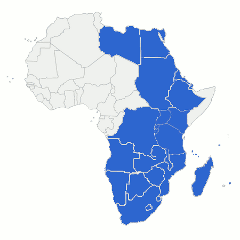 East Africa Business Week | 2015-03-03
East Africa: Trade bloc merger talks end with May date
Nairobi — Negotiations have been finalized in preparation for the launch of Africa's largest free trade area in May, officials said on Tuesday. writes JOHN SAMBO.
The Common Market for Eastern and Southern Africa (COMESA) Assistant Secretary Kipyego Cheluget told a media briefing, "All the 26 member states in the three trading blocs have expressed great political will to allow the free movement of goods and services by end of May."
The FTA would cover 26 countries ranging from Egypt to South Africa with a combined population of 625 million people and an aggregate GDP of one trillion US dollars.
These figures represent half of the African Union's membership and 58 percent of the continent's economic activity, according to COMESA.
Cheluget said after the launch, all the members states will be required to ratify the agreement before the FTA takes effect.
The COMESA Assistant Secretary General said the tripartite will form a building bloc to the continent wide free trade agreement.
Since July 2014, the African Development Bank has also been supporting the Tripartite Capacity Building Programme (TCBP).
He added that the main objective of the programme is to provide technical assistance to the three regional economic blocs and the tripartite countries with the view of increasing intra-Tripartite trade.
"The programme will also support the tripartite negotiations process, the development of trade facilitation instruments as well as an industrial cluster action plan for the Tripartite Free Trade Area (TFTA)," he said.
The launching of the TFTA is the first phase of implementing a developmental regional integration strategy that places high priority on infrastructure development, industrialization and free movement of business persons.
In order for the Tripartite FTA to realize inclusive and equitable growth, officials agree on the need for expeditious formulation and implementation of a regional industrial programme.
Cheluget said the Tripartite FTA offers significant opportunities for business and investment within the Tripartite and will act as a magnet for attracting foreign direct investment into the tripartite region.
The business community, in particular, will benefit from an improved and harmonized trade regime which reduces the cost of doing business as a result of elimination of overlapping trade regimes due to multiple memberships, Cheluget added.
The FTA was originally endorsed at the Tripartite Summit of Heads of State and Government in Johannesburg in June 2011. Since then several rounds of talks have taken place.
---