East Africa: Why cautionary approach to EPA's deal is important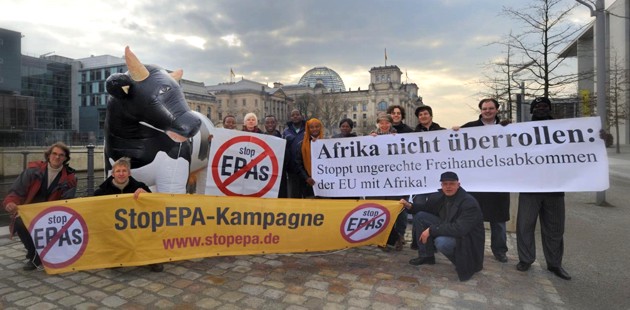 All Africa | 19 July 2016
East Africa: Why cautionary approach to EPA's deal is important
By Henry Lyimo
Tanzania has refused to sign the Economic Partnership Agreement (EPA) that is set to guide trade between the East African Community (EAC) and the European Union and this has not gone down well with some regional members for some obvious reasons.
The Permanent Secretary in the Ministry of Foreign Affairs, Dr Aziz Mlima said his country would not sign the EAC-EU EPA citing 'turmoil' in the EU occasioned by the impending exit of the United Kingdom. "Our experts have analysed the pact and established that it will not be to our local industry's benefit.
Signing this pact at the moment would expose young EAC countries to harsh economic conditions in post-Brexit Europe," Dr Mlima said. The decision to snub signing of the trade deal as expected was not interpreted well by some member states with unnamed Kenyan government official quoted by Standard Digital saying Tanzania has been proving difficult and slow in firming up the new deal.
The reaction by the Kenyan official may be understood as the decision by Dar to opt out of EPA deal signing between East African Community (EAC) and the EU leaves Kenya's exports exposed to heavy taxes.
Kenya exports tea, coffee and flowers to the 28-member market it is feared that Tanzania's position may wreck the whole deal which may also spell doom to more than 600,000 workers mainly in the flower farms and fresh foods producers in Kenya.
However, it is important also to put the EPA deal and the Tanzania's situation into proper perspective. The Economic Partnership Agreements (EPAs) are intended to enhance regional integration and economic development in the African, Caribbean and Pacific (ACP) countries.
They are based on the principle of asymmetrical market opening, meaning that they provide a better access to the EU market for ACP partners. They notably offer unprecedented market opportunities for agricultural and fisheries products.
The EU will continue to grant 100 per cent duty free quota free access to its market for all imports from the EAC member countries. The modest and gradual liberalisation the EAC has committed itself to will be over a period of 25 years, taking full account of the different level of development between the EAC and the EU.
Tanzania is currently promoting her manufacturing base as it eyes to nurture an industrial economy as per the Vision 2025 and the 2nd Five Year Development Plan (2016/17 - 2020/21) that was inaugurated this year.
The focus of the government now is to build solid foundation for industrialization and has taken deliberate measures to make the dream a success. Enhancing regional integration and economic development in the African, Caribbean and Pacific (ACP) countries as envisaged under EPAs deal sounds good, but there are concerns that the deal will be counterproductive to our efforts towards an industrial economy.
Second, UK exit from European Union cannot be overlooked as far as EPAs deal with European Union is concerned. Britain is Tanzania's key trade and investment partner. It makes sense to be cautious and consult further before signing a deal with an organisation where your major partner plans to exit. It is important to remember that Africa is currently negotiating the Continental Free Trade Area (CFTA) for the whole continent, under which Africa will be one market.
This is a much bigger market than what we would get from the EU, given that our goods can compete on the African market. The CFTA will create a single continental market for goods and services, with free movement of business persons and investments, and thus pave the way for accelerating the establishment of the Continental Customs Union and the African customs union.
This was part of agenda of the 27th African Union Summit in Kigali, Rwanda and it is expected if everything go well the CFTA would involve 54 member states across Africa, and be the world'slargest freetrade area, by number of countries. It would establish a single market of more than 1 billion people — an estimated 2 billion or more by 2050 — with a gross domestic product of more than $3 trillion.
This is a much bigger market than what we would get from the EU deal, given our capacity to penetrate the EU market and ability to compete on the African market. After all we have always been calling for promotion of regional trade.
It is heartening that some sober minds in the region are taking Tanzania's position positively and are appealing to others to listen carefully to the issues raised related to the trade deal.
A Kenyan representative in the East African Legislative Assembly (EALA) was recently quoted in the media as saying it was imperative for East African Community (EAC) to listen carefully to the issues Tanzania is raising related to the Economic Partnership Agreement (EPA).
"It is important for us to listen to the issues Tanzania is raising and also look at the implications of Brexit. We, as Africans, cannot afford not to act together as a bloc," he was quoted by New Times of Rwanda.
"We must always consider working together as a unit and take into consideration whatever unfolding situations." There are reports that could not be confirmed immediately that signing of the deal in Nairobi was postponed yesterday.
---