Ecuadorean police fight trade protesters
Associated Press
Ecuadorean Police Fight Trade Protesters
QUITO, Ecuador, Mar. 22, 2006
Police fired tear gas at stone-throwing Indians as they blocked roadways around the capital with rocks and tree trunks Tuesday during protests against free-trade talks with Washington.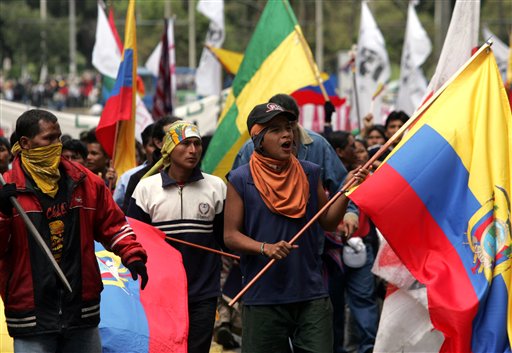 Television images showed police trying to clear roads in two provinces near Quito and firing tear gas to repel dozens of protesters, who responded by hurling stones at them.
No serious injuries or arrests were immediately reported.
Police said they were determined to prevent a threatened widespread protests in Quito by the Confederation of Indigenous Nationalities of Ecuador, the nation's largest Indian movement. As of midday Tuesday, only 200 Indian protesters were seen in the capital.
"We don't want to overthrow any government," movement spokesman Humberto Talagua told Radio Centro. "The majority of the Ecuadorean people are with us. We're going to see that in the streets."
The left-leaning Indian movement last week also blocked roads in 11 provinces with burning tires, rocks and tree trunks, tying up traffic and commerce for several days.
Venezuela President Hugo Chavez, meanwhile, denied allegations reportedly made by Ecuadoran Congress President Wilfrido Lucero that his government was financing the protests.
"The president of Congress of that country says that the Venezuelan government is guilty, that the Venezuelan government is financing the protests," Chavez said. "No, sir, it's not the Venezuelan government."
The Indian confederation accuses the U.S. of exercising too much influence in the region and contends that Ecuadorean farmers and small-scale Indian producers cannot compete with inexpensive American agricultural imports.
Palacio's government, however, has strongly supported the free-trade agreement. Colombia and Peru have already signed similar agreements and Ecuador is scheduled to enter a final round of talks on Thursday.
---