Ecuadorian VP: EU trade deal 'is unlike other agreements'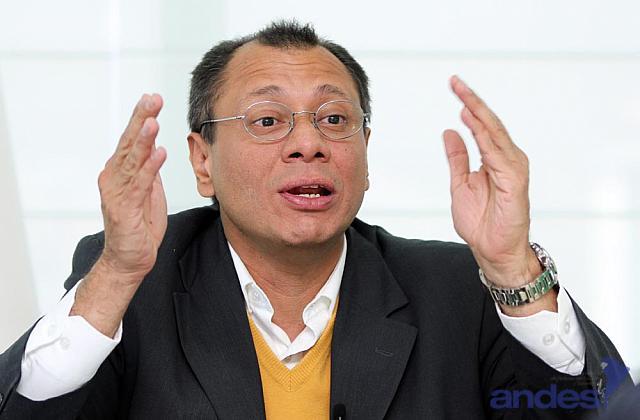 EurActiv | 21 November 2016
Ecuadorian VP: EU trade deal 'is unlike other agreements'
By Rosa Jiménez
Ecuadorian Vice-President Jorge Glas told EurActiv Spain that the trade agreement recently signed with the EU will generate plenty of opportunities and underpin the changes his country has been working toward in recent years.
On 11 November, Ecuador joined a trade deal that has been in place between the EU, Colombia and Peru since 2013. The agreement eliminates high tariffs, protects the bloc's lucrative geographical indicators and a whole swell of other benefits. The EU was Ecuador's largest trading partner in 2015.
"The agreement is a fair deal for both parties, generating opportunities and engaging with a development and industrialisation strategy that Ecuador has been working on for some time," Glas said on 12 November in Brussels, after his country joined the EU's existing deal.
"It is unlike some other trade agreements, where only the biggest benefit or where serious implications are generated for those further down the production chain," the vice-president added.
Ecuador, which in 2009 abandoned negotiations with the EU because it felt the deal on the table did not do enough to help development in the South American nation, restarted talks in January 2014 and an agreement was brokered in July of this year.
"It has been a long process, we had to comprehensively solve some issues, like the banana regime, which had to be agreed by everyone, which delayed us a lot," Glas explained. The deal will eliminate many import tariffs and European banana growers, particularly those operating in the Canary Islands, are concerned that their trade will be heavily affected by it.
"We care a lot, maybe that's why it took us a bit longer," suggested the Ecuadorian, who pointed out that a dollarized country like Ecuador "needs to evaluate every part out the production chain in order to reach an agreement that is beneficial for everyone".
The deal, which will come into force for Ecuador from 1 January, means than almost all its exports will enter the single market without paying tariffs.
It will apply to all industrial and fisheries products, increase market access for agricultural products, improve access to services and public procurement, and reduce the main technical barriers to trade.
The reduction in tariffs will be carried out over the course of 17 years. The EU will liberalise about 95% of tariff lines when the deal first comes into force and Ecuador 60%.
"We had some sensitive issues, like the dairy industry, in which most of our enterprises are small producers," Glas said, adding that the country's "star" products are tuna, shrimp, cocoa and bananas.
The vice-president also highlighted that the agreement makes Ecuador more attractive to European investment.
"We have received $1.5 billion in European investment in Ecuador. I am sure that will be multiplied a lot because of the trade deal," he insisted.
Glas explained that European capital goods can now enter the country tariff-free and "will help set up new factories, contribute to industrialisation, new manufacturing and services".
Asked about the strength of Asia, particularly China in Latin American, compared to the role being played by Europea, the Ecuadorian said that "we always have to look for ways to generate strategic alliances that benefit both parties".
He added that China is a "strategic partner".
When asked about the potential influence on international trade posed by President-elect Donald Trump, Glas insisted that "free trade agreements at any cost, without considering the peculiarities of the parties involved, always present challenges.
It can be that trade agreements do not generate jobs, even destroying certain production chains," he admitted, adding that "it is too early to say what will happen globally" as a result of Trump's presidency.
---