Egypt still considering free-trade zone with Gaza: Hamas official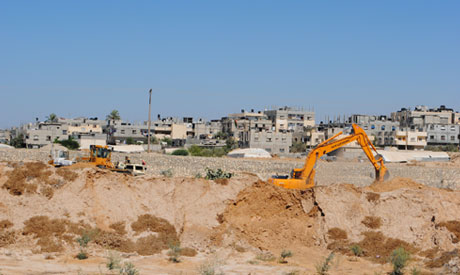 Ahram | 27.9.2012
Egypt still considering free-trade zone with Gaza: Hamas official
While Palestinian Authority claims Cairo has 'given up' on proposal for Egypt-Gaza free-trade zone, deputy head of Hamas' political bureau tells Ahram
Egypt still keen for free-trade zone with Gaza
Egypt has not given up on the idea of establishing a free-trade zone between Egypt and the next-door Gaza Strip, Mousa Abu-Marzouk, deputy head of Palestinian resistance movement Hamas' political bureau, told Ahram Online by telephone on Thursday.
"The free-trade zone was an Egyptian idea in the first place," Marzouk said. "Even though no steps have been taken to implement it yet, this doesn't mean Egypt gave up on it."
London-based Arabic-language daily Al-Quds Al-Araby reported on Wednesday that Egypt had officially informed Hamas that it would not establish a free-trade zone between Egypt and the besieged coastal enclave.
The pan-Arab newspaper quoted Nemr Hammad, political adviser to Palestinian Authority (PA) President Mahmoud Abbas, as saying that Egypt was afraid Israel might take advantage of the proposed free-trade zone to cut all economic support to the strip, responsibility for which would be put on Egypt's shoulders.
An Egyptian source involved in talks between Cairo and Gaza told Ahram Online that the meeting held between Hamas Prime Minister Ismail Haniya and Egyptian counterpart Hisham Qandil in Cairo last week "did discuss the establishment of the free-trade zone, but the project requires more study."
The source explained that any steps taken regarding the Cairo-Gaza relationship was not up to the Egyptian prime minister alone, but also involved the presidency and Egypt's "high security entities."
Following Haniya's arrival to Cairo on 17 September at the head of a delegation of Hamas officials, the PA criticised the Egyptian side for "sending the wrong messages" to the resistance group that risked making permanent the separation between the PA-run West Bank and the Hamas-governed Gaza Strip.
Hamas is an offshoot of Egypt's Muslim Brotherhood, the group from which Egyptian President Mohamed Morsi hails.
Earlier this month, daily newspaper Al-Watan quoted Abdullah Qandil, head of the North Sinai Chamber of Commerce, as saying that the free-trade zone file had been assigned to leading Brotherhood member Khairat El-Shater. Although El-Shater is a senior Brotherhood figure, he does not hold an official post within the government or presidency.
The Egypt-Gaza free-trade zone aims to provide an alternative to the informal tunnels-trade between Egyptian Rafah and the impoverished strip, which has flourished during the six-year-long Israeli-Egyptian embargo of the territory.
According to Egypt's Al-Watan newspaper, the Gaza government's economy ministry is "exerting considerable efforts" to establish the proposed trade zone. Formal proposals have already been sent to Cairo in this regard, the paper reported, and are currently awaiting approval prior to implementation.
---