El impacto del arbitraje de inversiones en los países africanos
All the versions of this article: [English] [Español] [français]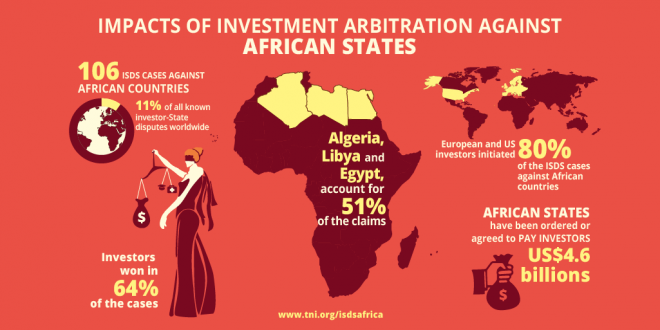 Ciar Global | 26 de noviembre, 2019
El impacto del Arbitraje de inversiones en los países africanos
El informe "Impactos del Arbitraje de Inversiones contra Países Africanos" ("Impacts of investment arbitration against African states") del TransnationalInstitute (TNI) pone el foco en el crecimiento que en años recientes han tenido las demandas de arbitraje contra países africanos que ya representan el 11% de todos los arbitrajes de inversiones conocidos.
Las autoras Bettina Müller y Cecilia Olivet explican como a finales de agosto de 2019, los Estados africanos habían recibido 106 reclamaciones de arbitraje conocidas invocando tratados de inversión. Lo que representa el 11% de todos los conflictos inversor-Estado del mundo.
Müller y Olivet reflexionan sobre el hecho de que entre 2013 y 2018 haya habido un auge de reclamos sin precedentes contra los gobiernos africanos, que recibieron en cinco años más demandas de inversiones que en los 20 años anteriores.
Un total de 28 países africanos han sido demandados por inversores en tribunales internacionales de arbitraje, pero solo Egipto, Libia y Argelia acumulan el 51% de las reclamaciones.
Datos sobre ganadores y perdedores; el monto de las demandas y de las indemnizaciones que deben asumir los Estados (la cuantía más alta que ha tenido que afrontar un estado africano ha sido la de Egipto en el caso Unión Fenosa: 2B$), tratados invocados o sectores afectados se recogen en el estudio "ISDS in numbers: Impacts of investment arbitration against African states".
---