EU and Japan promise to commit to free trade deal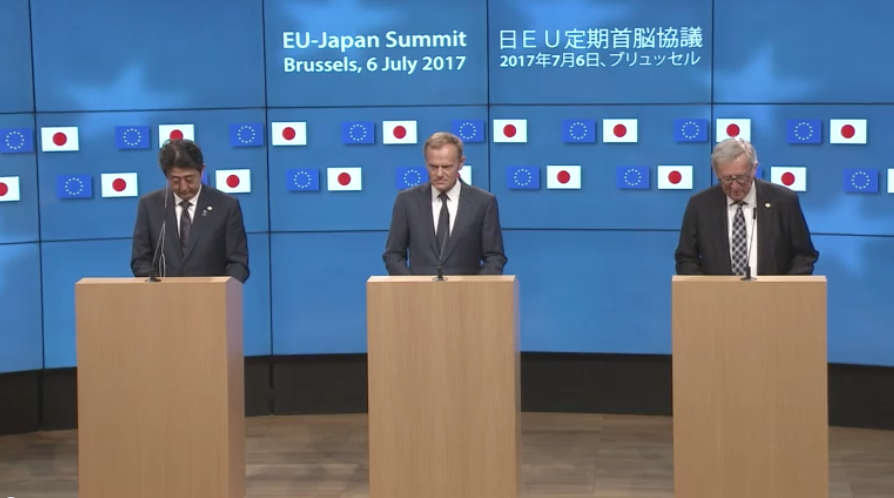 The Telegraph | 6 July 2017

EU and Japan promise to commit to free trade deal
by Tim Wallace
Japan and the EU have reached a "political agreement" on a free trade deal in a sign that both parties will commit to negotiating an agreement to reduce barriers between the two.
Trade commissioner Cecilia Malmstrom made the agreement with Japan's foreign minister Fumio Kishida.
Prime Minister Shinzo Abe is expected to give his backing to the plan at a summit in Brussels on Thursday with Donald Tusk, president of the EU Council, and Jean-Claude Juncker, president of the European Commission.
The meeting in Brussels comes ahead of the G20 summit which could be fraught as some countries back efforts to promote free trade and international integration while Donald Trump has upended the US's traditional view in favour of a more protectionist stance.
Officials hope that the deal will ultimately open EU markets up to Japanese cars and open Japan to EU agricultural goods.
EU taxes on cars have riled Japan, while the tariffs on cheese imports heading east have also proved to be difficult to scrap.
The political deal does not mean the pair are yet close to agreeing a full trade treaty. Talks have been ongoing for four years and tough further discussion on areas including investment courts – an often-controversial topic, setting up tribunals which can rule on international disputes – can be expected.
Ms Malmstrom tweeted that "we ironed out the remaining differences in the EU-Japan trade negotiations".
EU trade negotiations can take substantial amounts of time, in part because each member state has to agree to deal – the agreement with Canada, for example, was delayed after seven years of talks by opposition from the Belgian region of Wallonia. That treaty has still not been fully ratified.
But the idea of opening up trade has gained some new impetus due to the US stance, with the EU keen to show that it has alternatives to the Transatlantic Trade and Investment Treaty (TTIP) which has effectively ground to a halt.
---