EU approves contentious free trade pact with Canada despite protests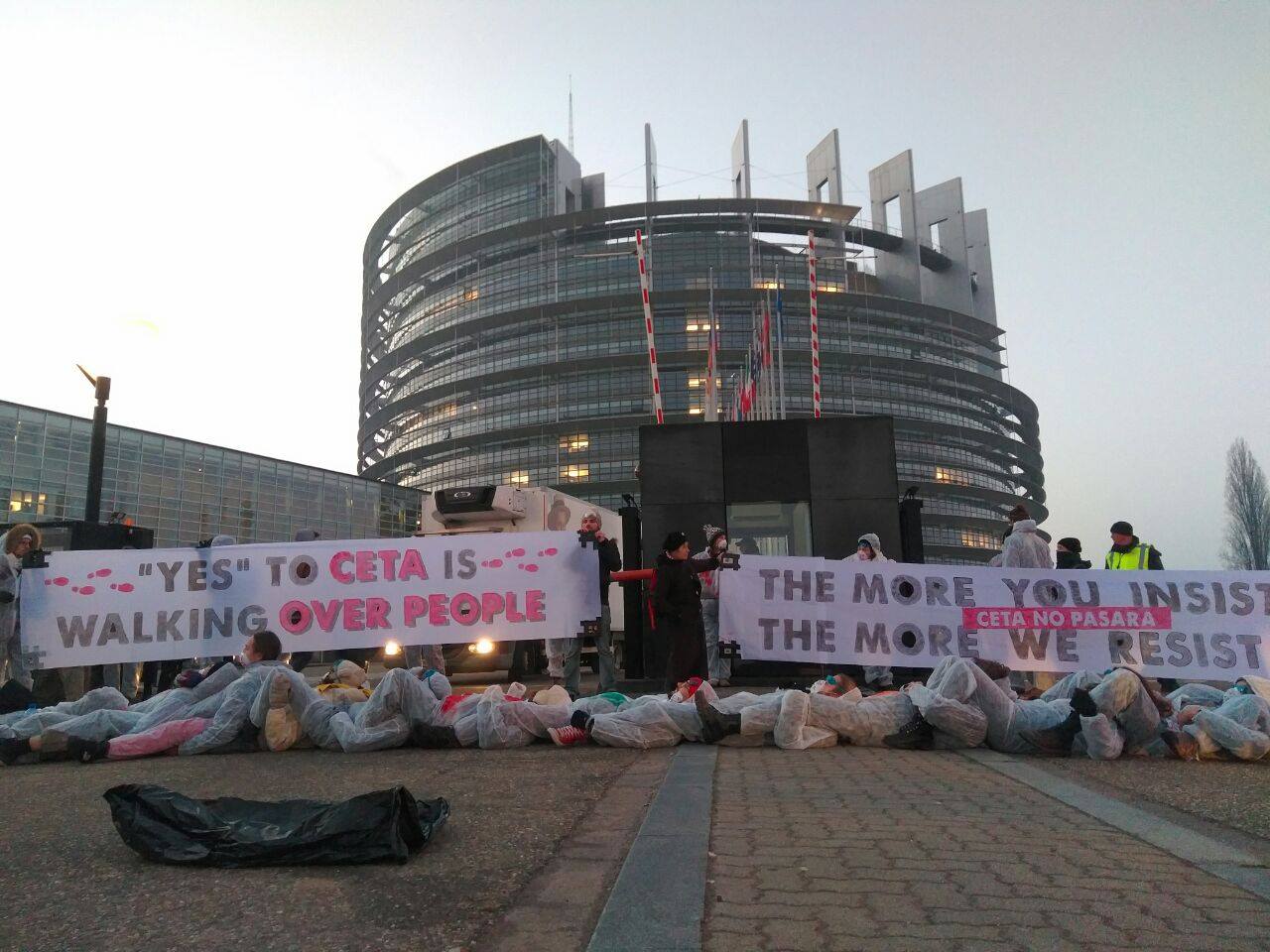 RT | 15 February 2017

EU approves contentious free trade pact with Canada despite protests
The European Parliament has approved a landmark free trade deal between the EU and Canada. Hundreds gathered in Strasbourg, France to protest the Comprehensive Economic and Trade Agreement (CETA).
The approval allows CETA to come into force provisionally in the coming months.
The EU parliament voted to support most of the terms of the contentious trade deal, notably tariff reduction, which will apply eight years after negotiations began.
The members of parliament approved the deal with 408 votes in favor, 254 against and 33 abstentions.
At the same time, more controversial aspects of the pact, including the secret corporate court system, will require ratification by EU member states which may reportedly take years.
The move came as hundreds of protesters were rallying outside the EU parliament building in Strasbourg to oppose the deal. They claim the agreement will ruin European environmental, labor and consumer standards with no growth and jobs in return.
Anti-globalization activists, dressed in surgical masks, tried to block the entrance to the parliament building, before being dragged away by police. The protesters were carrying banners reading "Saying yes to CETA is a trampling of the people,""Stop CETA."
EU countries and Canada formally signed the pact last October following eight years of tough negotiations. The parties managed to overcome last-minute resistance from the French-speaking Belgian region of Wallonia.
Wallonia's regional parliament repeatedly blocked the deal, urging the sides to renegotiate some of its terms. The head of the region Paul Magnette insisted the initial version of CETA allowed big corporations to sue the governments of EU member states.
The implementation of CETA is seen as a victory for globalization, which is seen to be under threat from US President Donald Trump who is critical of global trade deals.
With President Trump in the White House we see a clear change in US policy. Leadership for open economies and societies must come from us in Europe. We cannot imagine a better partner than Canada, the most European country outside the union," said liberal ALDE legislator Marietje Schaake, as quoted by ABC News.
"CETA is the best trade agreement the EU has ever concluded. It will bring Canada and Europe even closer together," said German MEP Manfred Weber, the head of the conservative EPP group, as quoted by AFP.
---