EU, China officials prepare to ramp up investment treaty talks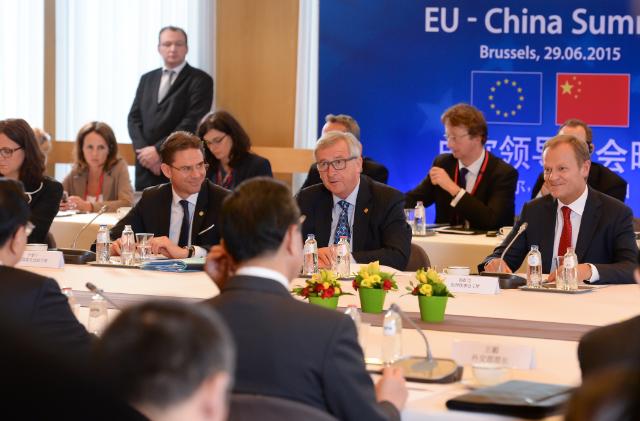 ICTSD | 28 June 2018
EU, China officials prepare to ramp up investment treaty talks
Top officials from the EU and China pledged on Monday 25 June to ramp up efforts to negotiate a sweeping investment accord, along with confirming plans to set up a "working group" on reforming the World Trade Organization.
The discussions, convened in the context of an existing platform known as the High-Level Economic and Trade Dialogue, come within weeks of an impending annual leaders' summit, and less than one month after a separate gathering known as the EU-China Strategic Dialogue, where trade also played a headline role on the agenda. (See Bridges Weekly, 7 June 2018)
The EU and Chinese teams were led by Jyrki Katainen and Liu He. The former is the European Commission's Vice-President for Jobs, Growth, Investment, and Competitiveness, while the latter is the Vice-Premier of the Chinese State Council.
The EU and China already have deep-seated commercial ties, exchanging over €1 billion in goods alone on a daily basis, according to European Commission statistics. Bilateral services trade is about one-tenth of that.
"We wanted to map out concrete deliverables for [the] EU-China summit, to show that the EU and China can deliver in order to make our business environment more sustainable and better functioning," said Katainen in a brief video statement after the meetings, held in Beijing.
He also highlighted the two teams' talks on multilateralism and WTO reform, calling it one of two "burning issues" on the agenda, along with the summit preparations.
The European Commission said that they expect to ink a separate deal on geographical indications, a type of intellectual property rights protection for specialty food and drink products, at the July leaders' meeting, while discussions are due to continue on how to tackle industrial overcapacity, agricultural market access, and other shared concerns.
"Working group" on WTO reform
The two sides covered a series of topics related to the Geneva-based World Trade Organization, confirming afterward their plans to launch a working group on the subject. A statement from the European Commission hinted that industrial subsidies would likely be on the working group agenda, though what the new body would actually cover is not yet confirmed.
Just weeks ago, the EU, US, and Japan issued their own trilateral statement and scoping paper which called for WTO negotiations to address industrial subsidies, among other issues, warning that current rules must be updated so that "certain emerging developing members do not escape [their] application." The statement did not, however, refer directly to China in this regard. (See Bridges Weekly, 7 June 2018)
Whether a move to launch new talks to revamp industrial subsidy rules would gain sufficient traction at the global trade club remains to be seen. WTO members are grappling with a series of challenges, including a growing delay in approving new judges to fill vacancies at the organisation's Appellate Body, along with years of slow progress in many existing negotiating areas. Members have also publicly debated the implications of new, unilateral trade measures, particularly from the US, in recent months, along with how to address newer topics on the international trade agenda within the WTO context. (See Bridges Weekly, 9 May 2018)
"As uncertainties in the world become increasingly prominent, China is ready to strengthen coordination with the EU to maintain multilateralism and a free trade system, promote trade liberalisation and investment facilitation, and make contributions to economic globalisation and the recovery and growth of the world economy, so as to send a positive signal to the world," said a statement from the State Council summarising the views of Chinese Premier Li Keqiang, who also attended the meetings.
Investment treaty: market access offers forthcoming
Officials also promised to hit a key milestone in their negotiations for an investment treaty, saying that they would exchange market access offers at next month's leaders' summit.
The EU and China launched negotiations for this investment treaty in late 2013, confirming that they had a shared understanding of the planned deal's scope in 2016. The objectives, they say, would involve improving market access for foreign investors on both sides, along with creating a regulatory environment more conducive to boosting investment flows while providing the necessary investor protections.
At the time, they also pledged to include a sustainable development component to the accord. Furthermore, a final agreement would have the advantage of bringing bilateral arrangements between EU member states and China under one EU-wide accord.
A brief report from the European Commission on the latest talks at the end 2017 showed mixed levels of progress, with some topics being deemed as relatively advanced, while others were in the initial stages.
Leaders to discuss climate, oceans cooperation next month
Officials also indicated that environmental issues, including carbon markets and fisheries management, will be on the agenda of next month's leaders' summit. The pledges to potentially sign a "Memorandum of Understanding" on emissions trading come within days of a trilateral summit between EU, Chinese, and Canadian climate ministers, who had examined ways to boost up their climate action cooperation. (For more on the climate ministerial, see related story, this edition)
The two sides held a "policy dialogue" on carbon market cooperation earlier this year, given the ongoing roll-out of China's own national emissions trading scheme, which builds on previous pilot programmes tested in select areas of the Asian economy. The Chinese programme is expected to surpass the EU's in size, once fully operational.
---