EU commissioner says Brexit negotiation must precede trade talks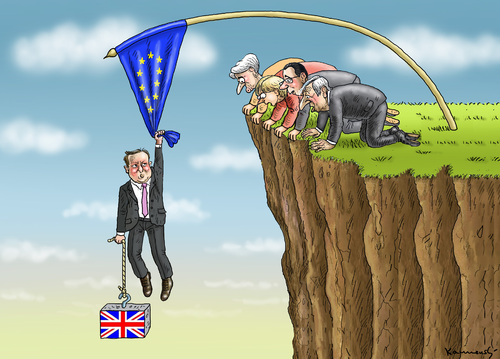 The Guardian | 1 July 2016
EU commissioner says Brexit negotiation must precede trade talks
by Patrick Wintour
Britain will not be able to start talks on a new trade arrangement with the EU until other aspects of its exit have been settled, the trade commissioner, Cecilia Malmström has said.
"There are actually two negotiations. First you exit, and then you negotiate the new relationship, whatever that is," she said.
Between Brexit and the signing of any new trade deal, business between the UK and EU would be conducted under World Trade Organisation rules, she told BBC's Newsnight. She acknowledged that could damage businesses and economies within the UK and remaining members of the EU, but said: "Yes, but the vote was very clear."
Malmström said: "The referendum – which of course we take note of and respect – has no legal effect. First there has to be notification, which the next prime minister will do, I hope swiftly. And then that process can start."
Her timetable suggests it might take at worst 10 years for the UK to negotiate a new specific trade deal with the EU, placing pressure on both sides to find some interim relationship.
Her remarks were condemned by the Tory leadership candidate and Brexit supporter Liam Fox as "bizarre, stupid, preposterous and ridiculous". He said the commission's view of how the negotiations would be conducted would have to be handed over to the elected national politicians at the head of the council of ministers.
He said it was ridiculous to think that French and German politicians would have to go into their national elections next year telling their electorates they do not know how much French wine or German cars they are going to be able to export. He said the commissioner's stance was doubly bizarre since she had admitted her timetable and interpretation of the procedure would damage the economies of the EU.
There had been an expectation that Brexit talks would run in parallel with one set of talks negotiating the specific terms of the UK exit – a partly backward-looking technical exercise – with a more forward-looking set of talks on the terms of UK access to the vast EU single market, and specifically the terms of a trade deal, including tariff barriers.
Malmström said that after Brexit, the UK would become a "third country" in EU terms, meaning trade would be carried out based on WTO rules until a new deal was complete.
A recent trade deal with Canada took seven years to negotiate, although a UK deal would in practice be easier. The Canadian agreement will also require ratification by all EU countries, adding another one to two years before it takes effect.
The length of time suggests the UK will need to look first for an interim Norway-style deal in which it has access to the single market, but is still subject to EU rules, including some version of free movement. The commissioner's proposal would reduce UK negotiating leverage since the UK would have nothing to offer on issues such as fees to the EU.
It has been suggested by some Tory candidates that the possibility of ejecting EU migrants living in the UK could become a possible lever. Fears that UK nationals may be thrown out of the EU, and EU nationals ejected from the UK in a tit-for-tat war has already led to an increase in passport applications by UK emigrants in Europe.
---