EU envoy prods Canada to finalize free trade deal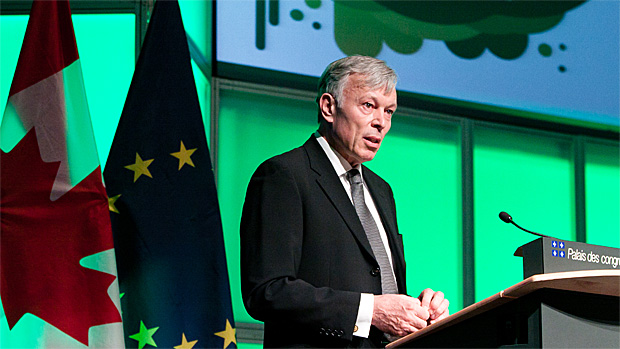 The Canadian Press | Jul 3, 2013
EU envoy prods Canada to finalize free trade deal
European access for Canadian beef still a sticking point
With negotiators poised to meet next week in Ottawa, the European Union is once again ratcheting up the pressure on Canada to conclude long-running free trade talks.
Matthias Brinkmann, the European Union ambassador to Canada, said Wednesday he's hopeful an agreement can be finalized, possibly before the summer's end.
"But, as you know, it takes two to tango, so here we are," Brinkmann said after a ceremony marking Croatia's entry into the 28-country EU.
"We were ready already in February to conclude this negotiation. It seems that more time is needed. There's nothing we can do about that."
Four months ago, hopes were high that the protracted negotiations might be coming to a close when trade and agriculture ministers met in Ottawa. However, the long-awaited agreement has so far failed to materialize.
Brinkmann made clear that the window for finalizing the deal is narrowing, noting that much of Europe shuts down for business in August.
Asked if there were any planned talks in the coming weeks, he said: "there is no meeting fixed yet ... we're on standby."
However, a spokesman for International Trade Minister Ed Fast said negotiators planned to meet in Ottawa next week, but did not provide further details.
"Canada has made robust offers in good faith that address the EU's key interests," spokesman Rudy Husny said in an email.
"Canadians expect to be provided the same by the EU. We continue to make this clear to our EU counterparts."
Hitch over access for Canadian beef
Brinkmann also confirmed that one significant sticking point is Canada's demand for Europe to open its market to beef exports. But he refused to say what European negotiators are offering Canada.
"We have a generous offer, which I think meets the demands by the sector concerned here in Canada," he said.
John Masswohl of the Canadian Cattlemen's Association said the European offer simply isn't enough to compensate Canadian beef farmers for the extra costs they will face to convert production to hormone and antibiotic-free beef as called for by the EU. He also declined to discuss specific numbers.
"We are close, and it's going to take some tough political decisions on both sides," said Masswohl, who was recently in Brussels for the negotiations.
"I would characterize them as habitual repeat offenders of protectionism. They use every trick in the book to keep our beef out of that market. They have in the past, and we want to make sure we get everything nailed down this time around."
With Europe and the U.S. about to embark on their own free trade talks, some analysts have predicted that the ongoing negotiations with Canada will be shuffled to the back burner.
Brinkmann hinted that was a factor that Canada might want to take into consideration.
"Nobody, I think, will walk away from this agreement. Too much has been invested into that," he said.
"And it's absolutely worth the while to conclude this agreement, especially as there's kind of a race now to bilateral preferential agreements, you know, with the United States."
In recent months, the EU has pushed Canada to bring the negotiations to a conclusion.
In February, Karel De Gucht, the EU's trade commissioner, told a committee of the European parliament that Canada must change its positions for a deal to be struck, but gave no details.
Last month, EU trade spokesman John Clancy issued a statement that publicly criticized Canada for holding up the deal.
With Prime Minister Stephen Harper at the G8 summit in Northern Ireland, Clancy extolled the EU's "pragmatism and flexibility" and its readiness to take the necessary steps for "a political breakthrough" to seal the deal.
"We have been awaiting a similar message from Canada since the trade and agriculture ministers met in Ottawa in early February," Clancy said.
The government reiterated its position Wednesday that it won't sign a deal that is not in the country's interest.
"It remains our hope that we will soon achieve an agreement with the EU," said Husny. "We will only sign a deal that advances Canada's priorities."
---