EU hopes EPA with Kenya to be concluded by end of October
All the versions of this article: [English] [français]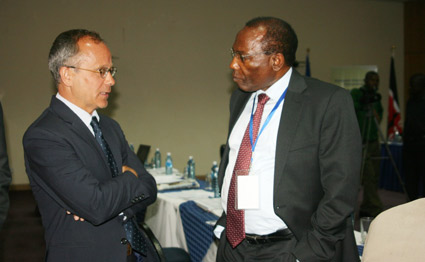 Xinhua | 5 Oct 2014
EU hopes EPA with Kenya to be concluded by end of October
NAIROBI (Xinhua) — The European Union (EU) on Friday expressed confidence that the ongoing Economic Partnership Agreement (EPA) talks with the East African Community (EAC) will be concluded by the end of October.
European Union Delegation to Kenya Trade Counsellor Christophe De Vroey told a news conference in Nairobi that lack of an agreement is costing Kenyan exporters approximately one million U.S. dollars in import taxes weekly.
"In order to avoid the tariffs, the EAC and the EU will set a new date to finalize the trade talks," Vroey said on Friday.
"There is political goodwill from both sides as 99 percent of the provisions have been agreed upon," he said.
The outstanding issues include export taxes, EU internal subsidies in agriculture as well as good governance in tax matters.
The preferential trade agreement between EAC and the EU lapsed on Oct.1 and this has resulted in Kenyan goods paying taxes to access the EU market.
The other EAC members are classified as least developed countries and therefore their goods don't attract EU import duty.
"Kenya is the only African country that is paying import tariffs to access the EU market," he said.
Vroey said after both parties initialized the agreement, it will take at least four months before Kenyan goods enter the EU market duty and quota free.
The trade talks have been taking place since 2002.
In 2013, the EU absorbed about 22 percent of Kenyan exports which were valued at approximately one billion Euros. The main export goods include flowers, vegetables, peas, beans, coffee and tea.
Under the agreement, the EU will open 100 percent of its market to Kenya.
However, the East Africa nation will only be required to open up 83 per cent of its market to EU goods.
A list of sensitive products including food, wines, spirits, chemicals, plastics, textile and vehicles will be protected from EU competition.
EU has already signed an EPA with the Southern Africa Development Community and the Economic Community of West African states. According to the EU, the EPA will help the EAC regional integration process.
EPA will also help Kenya to import intermediary products competitively.
"Through market liberalization, Kenyan businesses will gain easier access to high quality inputs from the EU," he said.
Head of EU Delegation in Kenya Lodjweik Briet said that the EU is extremely keen to bring the negotiations to an end. "It is part of our major priorities to ensure that trade is not disrupted," Briet said.
"The earlier a deal is sealed, the shorter will be the period in which Kenyan goods will be affected by tariffs," he said.
---