EU-Mercosur deal will have devastating impact on climate, NGOs warn
All the versions of this article: [English] [français]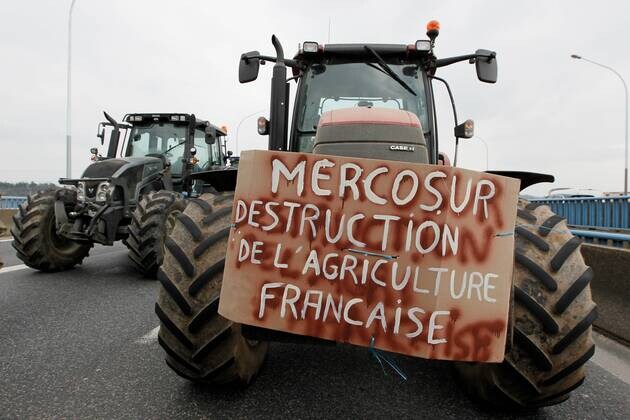 Euractiv | 2 July 2020
EU-Mercosur deal will have devastating impact on climate, NGOs warn
By Stéphanie Senet
After 20 years of negotiations, the text of the EU-Mercosur deal was concluded between the EU and the Latin American countries of Mercosur on 28 June. While the agreement still has to be approved by the European Parliament and Council, farmers and environmental NGOs remain disappointed.
The agreement signed with the EU – of which no official version has yet been published – removes tariff barriers for a large number of products, including orange juice and fruit, and gives access to the European market for sugar, ethanol, poultry and beef from the four Mercosur countries (Brazil, Argentina, Paraguay and Uruguay).
Brazilian President Jair Bolsonaro claimed victory, even though the negotiations started back in 2000, but not everyone shared his optimism.
Contrary to the fight against climate change
NGO Fern warned in a statement that the agreement "will have devastating consequences for the climate."
"While livestock farming is the main source of deforestation in these countries, accounting for 80% of deforestation in Brazil, this text will make it possible to import more beef thanks to tax exemptions," it read.
Deforestation is detrimental to the climate and generates growing conflicts with traditional communities. Intensive Brazilian agriculture also emits large quantities of greenhouse gases.
"I don't understand why we can sign this agreement," France's former Ecological Transition Minister Nicolas Hulot, who resigned last August, told Le Monde.
"This type of political decision shows that we have no systemic, global approach to fighting climate change. This agreement is completely at odds with our stated ambitions," he said.
Without legal constraints
Although the EU pushed for compliance with the Paris Agreement to be mentioned, this will have no impact on Brazilian policy.
Moreover, if a chapter is dedicated to sustainable development, it has no binding value, unlike the provisions on tariff barriers.
"It would be naïve to expect the Bolsonaro government to show goodwill on climate issues when it has allowed, since its election, about 450 hectares of the Amazon forest to be cleared every day, despite it belonging to protected areas," said liberal MP Matthieu Orphelin in reaction to the news.
"This is a climate bomb but also an insult to the fundamental individual liberties of the indigenous people who live there", he said.
Pesticides banned in Europe
The other concern of environmental NGOs is the use of pesticides.
Around 74% of the products used in Brazil are banned in Europe, according to the National Federation of Farmers' Unions (FNSEA). And since Bolsonaro came to power, 240 molecules banned from Europe have been authorised in Brazil.
Farmers call deal 'unbalanced'
Farmers, too, have stressed their concerns about the deal, with German farmers' association Bauernverband calling it "totally unbalanced".
According to Irish farmers, it is "shameful", while French farmers from the FNSEA association called it "a deception".
As a reassurance, outgoing EU Agriculture Commissioner Phil Hogan promised financial support of up to €1 billion "in the event of market disruption".
Open debates
However, the agreement has not yet been adopted. The ball is now in the court of the European Parliament and the European Council, which must approve the deal. Then the text has to be ratified in each state concerned, usually through a vote in the national parliament.
"All it takes is for a state to say no to completely block it," noted Samuel Leré, head of advocacy at the Nicolas Hulot Foundation (FNH).
In France, MP and LREM spokeswoman Aurore Bergé has already pointed out "a problem of form", as it was signed by an outgoing European Commission when a new Commission was soon to be appointed.
MP and farmer Jean-Baptiste Moreau also raised the issue of "imports of products from one of the most harmful forms of agriculture in the world, along with that of the United States".
A series of agreements
The agreement between the EU and Mercosur comes on the back of a series of free trade agreements concluded by the EU in recent months, including the CETA agreement with Canada, as well as agreements with Japan, Singapore and Vietnam.
"Each time, the logic is the same when it comes to environmental protection. There are no binding provisions," stressed Leré.
---