EU official says no deal so far on export trade talks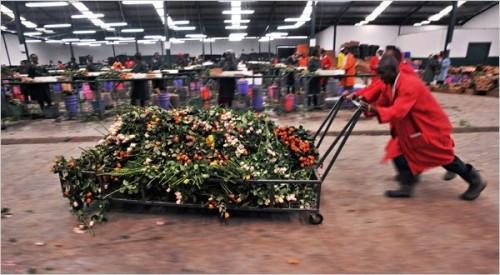 The Star (Kenya) | October 4, 2014
EU official says no deal so far on export trade talks
BY LOLA OKULO
TARGETED: A worker at a Naivasha flower farm prepares roses for export. They now attract taxes in EU markets.
EAST African states are yet to strike a trade deal on the Economic Partnership Agreement after the European Union said the proposals made by the council of ministers were inadequate.
Last week Foreign Affairs and International Trade Cabinet secretary Amina Mohamed raised hope that there would be a deal in place before October 1 after the EAC agreement but the proposals made were countered by the EU.
Amina said then that EAC member states had all reached an agreement amongst themselves and were now awaiting the EU to endore the deal.
"There is no deal so far and we are looking for a new date to meet with our EAC partners to finalise these negotiations," said Christophe De Vroey, the trade and communication counsellor of the EU delagation to Kenya. However he added that "99 per cent" of issue had been agreed.
"The outstanding issues are politically quite sensitive," said De Vroey
There are five issues holding back the deal, the EU said, among them are export tax governance, human rights, and rules of origin.
Kenya is now the only country being charged import duty for goods sent to the EU since Wednesday. The EU signed the Economic Partnership Agreement deals with the other African regional blocs like the South Africa Development Community and the Economic Community of West African States.
The other EAC member states, Uganda, Burundi, Rwanda and Tanzania are classified as least developed countries hence their goods still enjoy duty free entry despite not having a regional EPA with the European Union in place.
EU amended its market access regulations, ushering a new system on Wednesday.
The previous system of EPAs was not compliant with World Trade Organisation principle of non discrimination, where Latin American countries like Honduras and Guatemala felt the EU was giving African countries an advantage.
Kenya Association of Manufacturers said lack of EPA will cost Kenyan exporters of fresh produce and flowers between Sh150-200 million per week.
However the EU said these costs are over evaluated and put the additional costs at Sh100 million a week.
A new date for negotiations has not been decided, though De Vroey said there is likely to be a deal by end month, as both parties want the long over due deal in place. Once concluded, it will take a maximum of four months for the deal to be implemented.
---