EU-Thailand deal a starting point for Thai trade with France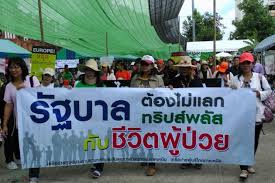 Business Times - 17 July 2019
EU-Thailand deal a starting point for Thai trade with France
By A.N. Basil
The European Union (EU) has yet to strike a free trade agreement (FTA) with Thailand but some member countries are already expressing interest in opportunities that the Thai market has to offer. These include France.
According to the Bangkok Post, French Ambassador to Thailand, Jacques Lapouge, said on Monday that there are many entrepreneurs from his country who are highly interested in making investments in the Thai market.
Lapouge said that while the EU-Thai FTA will come first, he is hoping that France-Thailand ties will be enhanced as well after the trade agreement with the bloc is completed. He said there are multiple sectors that will benefit from enhanced ties with the Asian country.
Among the companies interested in the Thai market are engineering firms, smart city experts, railway builders, tech professionals, and even segments under wastewater management.
France and Thailand have yet to strengthen bilateral ties although the two sides appear to be in good terms. Last year, Thai Prime Minister Prayuth Chan-o-cha made a state visit to Paris where he met French President Emmanuel Macron.
The EU's supposed trade deal with Thailand was halted after the country's political woes reached the world. Prayuth has just announced the end of Thai military rule in the country this week, potentially paving the way for developments in negotiations with the European country.
In his speech, Lapouge did not comment on Thailand's political issues. Instead, he stressed that the Thai economy is crucial in keeping Southeast Asia's economy in a good place. "Thailand is important in Southeast Asia. We will work with the prime minister and the government of Thailand, that's our intention," he said.
Even if there is no existing trade deal between France and Thailand yet, Lapouge revealed that there are plans to send French designers to participate in next year's Bangkok Design Week. Vietnamese and Indonesian designers are also expected to join the show.
Last month, the Thai government expressed interest in reviving talks with the bloc in hopes of securing a trade deal that would ease the burdens of Thailand's eager traders. At that time, it was announced that negotiations will be initiated once the new administration is established.
Negotiators from the two sides met in Brussels in June to hopefully restart talks about the hampered FTA. However, no details were provided to the public at that time since Prayuth had yet to announce his new government following his re-election.
On the other hand, Thailand is expecting to initiate trade talks with the EU sometime in the second half of this year as the urgency for a deal with the bloc became more evident after Vietnam secured an agreement with Brussels first.
---