Eurasian free-trade agreement on agenda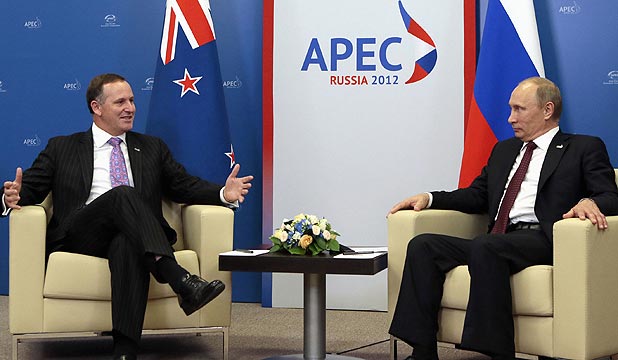 Otago Daily Times | 28 October 2017
Eurasian free-trade agreement on agenda
By Dene Mackenzie
The new Labour-New Zealand First Government will continue to push for a free-trade agreement with the Eurasian Economic Union despite Western sanctions on trade with Russia remaining.
As part of the coalition agreement, NZ First secured a pledge to work towards an FTA with the Russia-Belarus-Kazakhstan Customs Union - commonly known as the EEU - and seek Closer Commonwealth Economic Relations.
Russia indicated earlier this year it was willing to restart free-trade talks with New Zealand that were halted after the annexation of the Crimean peninsula. Then trade minister Todd McClay said in March it was too soon to resume negotiations with the world's 12th-largest economy.
In 2014, New Zealand suspended free-trade negotiations with Russia and its customer union partners Belarus and Kazakhstan over the conflict on the Crimean peninsula, having almost finalised an FTA after four years of talks.
Former prime minister Sir John Key told Russian President Vladimir Putin at the Apec meeting in Lima, Peru, New Zealand was willing to resume trade talks, but only on a timetable allowed by European nations' attitude to the Ukraine conflict.
NZ First does not appear to have the same qualms as Sir John and Mr McClay.
The EEU is still one of conflict. When it came into force on January 1, 2015, it was regarded as the most advanced organisation for regional co-operation the former Soviet bloc had seen.
Ukraine, with its population of 45million, was supposed to play a key role in the EEU, on account of its economic clout and the place it occupies in the mindset of Russia.
Belarus and Kazakhstan had publicly voiced their concern at the treatment dished out to Ukraine and they worked hard to limit the political weight of the EEU. Kazakhstan lobbied hard to get the word ``economic'' in the title and both states demanded a high price - cash or gas - for joining.
NZ First had clear trade policies on which it campaigned during the election.
They included:
Oppose investor-state dispute settlement (ISDS) provisions in bilateral and multilateral agreements and by extension the Trans Pacific Partnership-11, which offered little for New Zealand exporters.
Revise current FTA deals being negotiated to make sure they were real and were in the country's interests - such as protection of land and strategic assets.
Renegotiate existing poor-quality deals to increase their quality and benefit.
Conclude the Russia-Belarus Kazakhstan Customs Union Free Trade Agreement as a priority - the bloc was the world's No2 dairy and beef importer.
Initiate public diplomacy in countries New Zealand wanted FTAs with in order to win their public over and secure a better deal for their country and especially, New Zealand.
Prioritise free and fair trade deals with Japan, United Kingdom, EU and the United States.
Initiate Closer Commonwealth Economic Relations (CCER) to deepen existing bilateral deals with Commonwealth countries.
The party secured two of its goals in the coalition agreement but Labour is on side with revising FTAs in which it believes New Zealand's interests are not best served.
Prime Minister Jacinda Ardern wants to renegotiate some of the deals, particularly with Korea, but to get a new agreement, New Zealand will have to be accommodating.
Most urgently, the remaining 11 parties that negotiated the Trans Pacific Partnership Agreement will meet early next week in Japan to decide how to resuscitate the deal.
Outspoken opponent to the TPP, Jane Kelsey, said New Zealand under National, with Australia and Japan, had spearheaded demands to leave the original text virtually unchanged, while suspending a small number of provisions unless and until the US rejoined.
Ms Ardern, and possibly new Trade and Export Growth Minister David Parker, will be at Apec in Vietnam from November 5 and Prof Kelsey urged the new Government to have a plan in place by then.
``Before the new Government can decide its position on the TPP, including whether it would genuinely boost exports and provide a net benefit to the country, Labour needs to address its own criticism there is inadequate evidence to support even the original deal.''
Beef and Lamb chairman James Parsons said the coalition agreement said very little on trade directly, the exception being to restart the FTA negotiations with the Russian-led EEU.
The agreements did talk about strengthening the Overseas Investment Act and building a register of foreign-owned land and housing.
``This has clear links to election policies around restricting foreign access to buying existing houses and buying farmland.
``The issues these policies aim to address - housing and farm affordability - are real issues we need to be thinking about. The challenge will be to address these issues in a way that does not jeopardise our FTA position.''
New Zealand exported 95% of its lamb and more than 80% of its beef and farmers needed to stay competitive in offshore markets, he said.
Opening up FTAs to renegotiation could be problematic and lead to demands for something in exchange from the other side, or to delays in implementing the free-trade agreements.
The TPP was a good example, Mr Parsons said.
If it came into force, the more than 10% tariff advantage Australian beef exports to the lucrative Japanese market had over New Zealand exports to Japan would disappear.
``If we reopen negotiations with 11 countries, it may take years before they conclude. We need to address the downsides of foreign investment without having to hamstring our exports.''
---