European Union and Japan give green light for trade deal
Middlewich Guardian | 27 May 2016
European Union and Japan give green light for trade deal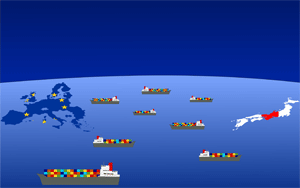 The European Union and Japan have reached political agreement on the completion of long-running negotiations for a trade deal which Downing Street believes could be worth £5 billion a year to the UK economy.
In talks at the G7 summit in Japan, leaders including David Cameron agreed to instruct negotiators to work to an accelerated timetable which could see the deal concluded as early as this autumn and come into effect next year.
The Prime Minister made it a key objective of the two-day gathering to secure progress in negotiations on the EU/Japan Economic Partnership Agreement/Free Trade Agreement - which began in 2013 and were initially intended to be completed last year.
Downing Street said an agreement could be worth the equivalent of £200 a year to British households in increased exports of products such as cars, manufactured goods, chemicals, food and drinks, as well as services, to Japan.
But key elements of the deal - including tariffs on agricultural and automotive exports and government procurement - must be completed over the summer if it is to be signed by the end of the year. A successful deal would mean the elimination of the vast majority of trade tariffs and boost imports and exports in key areas such as agriculture, car manufacturing and clothing, said Downing Street.
Mr Cameron discussed the deal with the summit's host, Japanese PM Shinzo Abe, during his visit to London earlier this month, and raised it in trade discussions with fellow G7 leaders in Ise-Shima on Thursday morning.
Welcoming the progress made towards finalising the deal, Mr Cameron said: "This agreement underlines once again why we are stronger, safer and better off in a reformed EU. As prime minister Abe said when visiting the UK, Japan's priority is negotiating with large trade blocs - not individual states in Europe. And this is something we hear time and again from foreign leaders.
"Not only will UK households lose out to the tune of £4,300 a year if we vote to leave, but we will be turning our backs on global trade deals which underpin our security and prosperity."
Speaking at a meeting with Mr Cameron, French president Francois Hollande, German chancellor Angela Merkel, Italian PM Matteo Renzi, European Commission president Jean-Claude Juncker and European Council president Donald Tusk, Mr Abe welcomed the political agreement.
"it's my great pleasure that we have produced this statement," said the Japanese PM.
"The realisation of the Japane EU EPA/FTA is not something that's conducive only to the economic growth of Japan and the EU.
"The agreement is going to be beneficial for bringing in sustainable and robust growth for the whole world economy.
"There's a substantial significance that countries sharing basic values such as freedom, democracy and the rule of law build... an international order that's befitting the 21st century.
"In order to make progress in the negotiation both parties must come up with strong determination and flexibility and I want to continue close cooperation with the leaders who are present today."
In a joint statement following the meeting the Prime Minister and leaders from the EU, Japan, France, Germany and Italy said that the deal will "promote strong, sustainable and balanced growth", including the creation of more jobs.
Downing Street later said that the G7 leaders had discussed the international steel crisis and the need to take measures to protect against dumping and unfair trade practices.
They noted the effect of global excess capacity across industrial sectors, especially steel, on economies, trade and workers.
The leaders agreed on the need to address the issue and to co-ordinate actions but did not commit themselves to any specific measures.
---