First death in Ecuador FTA riots
First Death in Ecuador FTA Riots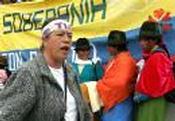 Quito, Apr 7 2006 (Prensa Latina) The violent police repression against Ecuadorian demonstrators protesting the free trade agreement with the US has claimed its first life, university students denounced Friday.
A 17 year-old boy died and another two received bullet wounds when the riot police charged at protestors from the University of Cuenca, in Azuay southern province, Thursday.
According to the sources, Johnny Montesdeoca died immediately after being shot in the back, while the injured are at a hospital in Cuenca recovering from shots in the legs.
The regrettable death, which shows the police atrocities against the protestors, has been denounced by native and human rights organizations.
---