Focus on private sector: Washington rules out trade agreement with Islamabad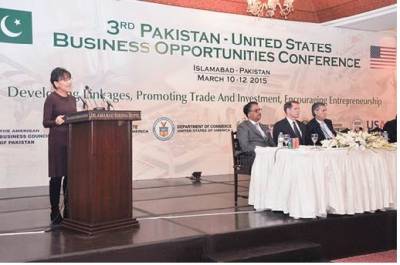 Express Tribune | March 11 2015
Focus on private sector: Washington rules out trade agreement with Islamabad
By Shahbaz Rana
ISLAMABAD — US Commerce Secretary Penny Pritzker finally admitted publicly that the Obama administration no longer has the ability to get legislative approval for any trade agreements with Pakistan, and hence is focusing on getting more US businesses to invest in Pakistan.
Pritzker urged Pakistan to fix its bureaucracy and address what she described as an "inconsistent and unfair" tax regime, cautioning that if the government did not remove such impediments to American businesses, US companies may move to other places.
Placing the private sector at the heart of US-Pakistan relationship, Pritzker admitted that the Obama administration was no longer in a position to get a US-Pakistan trade agreement approved by the United States Congress, so their entire focus will remain on "business to business connections". She was speaking at the third US-Pak Business Opportunities Conference and later on talked to a group of journalists at the US Embassy.
"No issue is as frustrating to a US business as inconsistent and unfair taxation," said Pritzker. She said Pakistan's tax regime was unreliable and the lax commitment to fair and consistent tax collection was creating problems for the foreign investors. Pritzker also pointed to the energy crisis as a severe challenge for foreign investors.
She also raised the issue of the US companies facing problems in seeking access to travel and ability to move goods, urging the government to expedite the process of issuing visas and other regulatory approvals. "The contest for global capital is increasingly competitive, and if these issues are not improved, business will seek opportunities in other markets," cautioned Pritzker.
Finance Minister Ishaq Dar admitted in front of Pritzker that "inconsistency, rapid changes and abrupt negativities in the taxation regime does not work" but yet he has so far introduced five budgets in last nine months including four mini-budgets to cover shortfall in revenues. According to former Finance Minister Hafiz Pasha, in the current fiscal year, the government has imposed Rs390 billion additional taxes on an annualised basis including Rs160 billion through four mini-budgets.
Pritzker's remarks carry implications for the bilateral economic relations, as the Obama Administration has announced that the private sector will now be centerpiece to its relationship with Pakistan. She said the relationships between states based solely on interactions between governments are susceptible to instability, disruption and being defined by the crisis of the moment.
Pritzker is from one of the wealthiest families in the United States and is an entrepreneur herself, having established five businesses. She said the model of US's economic assistance to Pakistan was evolving and it was moving past traditional aid towards initiatives that bring the private sector into the equation.
To questions on new trade concessions to Pakistan, Pritzker said "it is hard to pass new trade legislation right now in the US." To another question on giving duty free access to Pakistani goods to American markets, Pritzker said the GSP lapsed 20 months ago and Obama administration supported its reauthorisation but unfortunately the US Congress has not acted on that.
The US Ambassador to Pakistan, Richard Olson, who was also present during the media talk, said that the proposed legislation for Reconstruction Opportunity Zones in Fata also did not receive support in the US Congress. Pritzker said that the US was also waiting for a response from Pakistan on a proposed Bilateral Investment Treaty.
While acknowledging Pakistan's fight against terrorism, the Commerce Secretary also outlined "persistent security concerns" as the basic concern of the US companies. She said Pakistan also ought to streamline bureaucracy, as many US companies have reported that bureaucratic procedures are complex, arbitrary and unpredictable. She said the contract enforcements were very weak.
She said Pakistan was in the bottom half of the world when it came to ease of starting a business, dealing with construction permits, regular access to electricity, property registration, access to finance, and tax administration. She also expressed concerns over violation of intellectual property rights.
Pakistan would address all the impediments to the foreign investment and American companies should investment in energy, infrastructure, housing and agriculture sectors, said Commerce Minister Khurram Dastgir Khan.
---