France supports Australia-EU FTA: Macron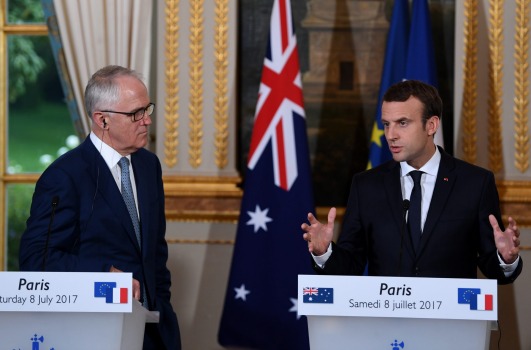 Xinhua | 2 May 2018
France supports Australia-EU FTA: Macron
CANBERRA, May 2 (Xinhua) — French President Emmanuel Macron has thrown his support behind Australia's push for a Free Trade Agreement (FTA) with the European Union (EU).
Macron met with Australian Prime Minister (PM) Malcolm Turnbull in Sydney on Wednesday where the pair found "solutions to the concerns" Macron held about agricultural imports into France.
He publicly committed himself to supporting the start of negotiations between the two parties within weeks.
"We are not wasting any time. We're not lagging behind," Macron told reporters on Wednesday.
"Precisely because we have found the means and the solutions to the concerns we may have had, and we have a strong commitment with Australia."
Australian farming products being exported to the EU have always been subject to high tariffs due to powerful agricultural bodies.
"We will keep close eye on interests in the agricultural field and interests of our territories in the Pacific and the climate issue, but I have no doubt that we can find a mutually beneficial agreement," Macron said.
"This is also our vision of global trade which has to be free and fair, and I can say that both our countries do not consider trade war or tensions to be something in our interests."
Turnbull said on Wednesday that trade between Australia and France was worth nine billion Australian dollars (6.75 billion U.S. dollars) in 2016-17.
"We both understand that free trade and open markets are good for jobs. Good for jobs in France, good for jobs in Australia," he said.
Turnbull praised the relationship between the nations, saying they were well-positioned to work with each other on infrastructure and humanitarian relief in the Pacific.
Macron arrived in Australia for a three-day visit on Tuesday night.
---