Friday isn't the real deadline for 'NAFTA 2.0'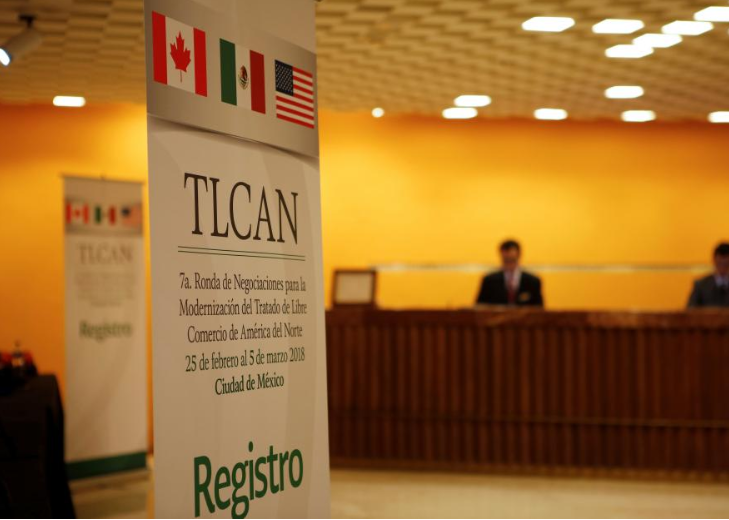 Washington Post | 30 August 2018
Friday isn't the real deadline for 'NAFTA 2.0'
By Heather Long
President Trump is telling Canadian officials they have until Friday to sign on to his major new North American trade deal, threatening to leave them behind, rip up the continent's existing trade pact and even, possibly, hit Canada with draconian auto tariffs.
But according to Congress, foreign officials and even members of Trump's own administration, Friday isn't the drop-dead deadline for Canada that the president is suggesting.
On Friday, Trump plans to send a letter to Congress notifying it of an impending trade deal, which he's terming a replacement for the North American Free Trade Agreement (new name to be determined). He wants to send a letter because it starts the clock on the 90-day notice that U.S. trade law requires Trump to give Congress before he can sign any agreement.
Getting that window started by Friday matters to Trump, because he wants to get a deal done by Dec. 1. That's when Mexican President Enrique Peña Nieto will step down to make way for President-elect Andrés Manuel López Obrador. López Obrador has had representatives at the U.S.-Mexico trade talks, but Trump doesn't want to risk the new Mexican administration balking at a deal his team brokered with the old one.
Trump already has what he needs from Mexico to give notice to Congress: The two countries Monday announced a "preliminary agreement in principle." That is, essentially, a deal to make a final deal later. It's not the full NAFTA renegotiation he promised, but it's probably enough to satisfy Republican leaders in Congress and get the 90-day clock started.
Trump has until the end of September (technically, 30 days) to send Congress the full, detailed deal.
But many members of Congress are telling Trump they won't back a new NAFTA deal unless all three North American countries are part of it. That puts pressure on the president to get Canada involved, and it's why the administration is likely to cut Canada some slack if it's not ready to sign by Friday.
Trade experts say the likely scenario is that Canada and the United States announce something comparable to the preliminary deal with Mexico — or at least to issue a statement of progress by the end of the week. From there, the two sides would have another month to finalize the details.
Although the Trump administration would love to have all three countries signed onto the Friday letter, U.S. Trade Representative Robert E. Lighthizer has already set up a contingency plan. The administration could send the letter with just a U.S.-Mexico deal and then add Canada in September — all without restarting the clock on the 90-day notice requirement.
Many trade lawyers say it's not entirely legitimate for the administration to send Congress the letter Friday and try to tack Canada on later, saying it violates the terms of "fast-track" authority the president has for renegotiating NAFTA.
But veterans of trade negotiations say it is up to Congress to allow it or not. Lawmakers have pushed for Canada to be included, and lawmakers would prefer to see Trump strike a new trade deal rather than attempt to walk away from the old one without anything to replace it. So there's reason to believe Republican leaders would let the administration get away with tacking Canada on after Friday.
"It really comes down to Congress," said Jennifer Hillman, a former U.S. trade negotiator in the Clinton administration. "Trump is setting this up to blame Canada for failing to agree."
That sets up a more firm, more important deadline for Canada as Sept. 29, the date by which Trump owes Congress a finalized deal if he wants to get it done before Dec. 1.
"Canada needs an agreement with the United States, but it doesn't need it by Friday," said Doug Holtz-Eakin, an economic adviser to many Republicans and former head of the Congressional Budget Office.
With that in mind, Friday's deadline is, for Canadian officials, more a bonus than a necessity. It might buy them some goodwill with the administration as they try to hammer out a final deal.
That goodwill could come in handy, as the United States and Canada remain at odds over major trade policies, especially over dairy products, Trump's new metal tariffs and his threatened one on auto parts and the mediation process for resolving trade policy disputes.
Resolving those differences before the end of September, and getting Mexico to sign onto whatever the United States and Canada agree to, is no easy task. But if Trump's team can get it done, it will go a long way toward the president's goal of turning NAFTA into a deal of his own.
If Trump can get the deal signed, then the action moves to Congress. Although legislation typically requires Congress to pass a bill and then the president to sign it, trade agreements typically go in the opposite direction, where Congress votes on the deal after the president inks it alongside leaders of other countries.
Congress needs only a simple majority to approve it, but there is a lengthy review process that has to take place before the vote can happen, meaning lawmakers probably won't vote on "NAFTA 2.0" until the summer of 2019 or beyond. It's yet another reason the midterm elections could be critical for Trump, because Democrats could easily stall this process.
"The likelihood is that this will be dealt with by the new Congress, the next Congress after the midterm elections," Commerce Secretary Wilbur Ross said Tuesday on Bloomberg.
---