FTA benefiting China more than Pakistan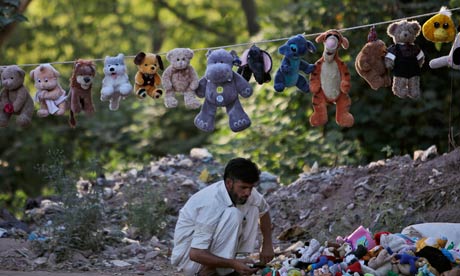 The News | Friday, August 12, 2011
FTA benefiting China more than Pakistan
Aftab Maken
ISLAMABAD: Imports from China have been persistently rising even in the no concession category whereas Pakistan has been able to increase its exports only in the first two categories, reveals a study on Pakistan-China FTA available with The News.
In the remaining three categories, Pakistan is either losing its export share or has not been able to significantly increase it, says the study.
The study says that the reason for the inability of Pakistan to increase its exports significantly in all concession categories is the more favourable tariff concessions granted by China to its other trading partners, due to which Pakistani exports become uncompetitive.
The marginal tariff concessions provided by Chinese authorities would not help Pakistan make inroads in the Chinese market unless tariff concessions granted to Pakistani exporters place them at par with other countries with which China has preferential trading arrangements, the study adds.
Pakistan Institute of Trade and Development (PITAD) conducted the study, 'Evaluation of Pakistan-China FTA'. It provides recommendations for trade negotiations in the Phase-II.
The effect of rapidly increasing imports from China on the domestic industry of Pakistan was also analysed by conducting a survey of stakeholders.
The results of the study highlight that products in which Pakistan's exports to China increased in the post-FTA period include cotton products of chapter 52, chromium ores and concentrates of chapter 26, fish prepared or preserved and fish fillet of chapter 16, copper wire of chapter 74, frozen flat fish of chapter 03, waste, parings and scrap of plastics of chapter 39 and marble and travertine of chapter 25.
This product composition reveals the lack of export diversification and concentration in raw material and intermediate product exports to China even in the post-FTA period.
There has been little shift in the comparative advantage pattern of Pakistan's export products in the Chinese market, says the study.
Imports from China were valued at around $1 billion in 2003, which rose to around $3.7 billion in 2009.
The products which registered the highest import value in the post-FTA period include telephone sets, including telephones for cellular networks or for other wireless networks, cellular mobile phone of chapter 85, telephone sets, including telephones for cellular networks' other apparatus of chapter 85, electric generating sets and rotary converters of chapter 85, electric and electronic products of chapter 85, synthetic filament yarn of chapter 54, polyesters not exceeding 2.22 decitex of chapter 55, light-vessels, fire-floats, dredgers, floating cranes of chapter 89, other pneum tyre rubber for bus of chapter 40, other pneum tyre rubber for bus ingredients for pesticides of chapter 29, onions, shallots, garlic, leeks & alliaceous vegetables, of chapter 07, machines and mechanical appliances, ginger of chapter 09, and antibiotics of chapter 29, it added.
Pakistan is a developing country and tariff is one of the major sources of revenue. The revenue loss incurred to Pakistan due to exemptions offered to Chinese products was to the tune of Rs139 million in 2006-07 during EHP period, which increased to a staggering figure of Rs6.1 billion in 2009-10.
The study reveals that Pakistan-China FTA is the most utilised FTA of all such agreements Pakistan has signed.
China's specific provision of low tariffs and other exemptions to the ASEAN and APTA countries has to some extent eroded the FTA preferences of Pakistani exporters in the Chinese market.
Our exporters mainly face competition from India (APTA member), Bangladesh (APTA) and Egypt in the Chinese market.
At product level, Pakistani grey fabric producer faces higher competition from India, Bangladesh and Egypt.
Pakistan cotton yarn and fish exports also reported tough competition from Bangladesh and India.
Exporters of knitwear, leather, surgical instruments, pure oxygen, football and chemical industry reported India as major competitor in Chinese market, while exporter of tyre manufacturers report competition from Sri Lanka.
There is considerable evidence of trade diversion as Pakistani importers have shifted their imports from other countries like Germany towards China.
Similarly, trade creation effect is also observed as importers reported low per unit price as the major reason for import from China, says the study.
---