FTA with South Korea is 'a car bomb' for Colombia's industrial sector: Senator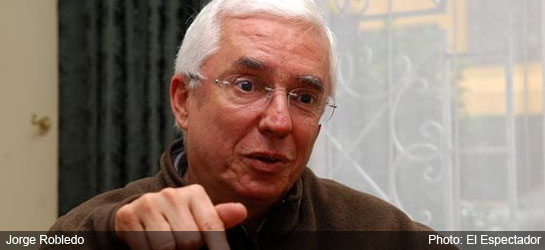 Colombia Reports
FTA with South Korea is 'a car bomb' for Colombia's industrial sector: Senator
6 February 2013
By Zach Edling and Wesley Tomaselli
One of the most popular and outspoken Colombian senators on Tuesday rebuked the pending free trade agreement (FTA) between Colombia and South Korea on the grounds that it undermines industrial potential.
Opposition senator Jorge Robledo expressed his sharp disapproval of the effects of an FTA with South Korea calling it a "car bomb" on the door of the national industry.
The government has championed the FTA because they claim it is "an opportunity for agriculture" because "South Korea has [a] growing need for agriculture [specifically] food items. 30% of all [their] imports are food, meats, fruits, and dairy," said Colombia's trade minister Sergio Diaz-Granados.
Javier Diaz Molina, the president of the National Association of Exporters, said the FTA is important for Colombia because it allows the country to enter the Asian market, one of the strongest economies in the world.
"I think [the FTA] enables us to start down the path of [establishing] a greater relationship with the continent...where we do not have a significant presence," said Diaz. "We will have to do our homework [in order] to meet the standards required to enter that market."
For Robledo, however, the supposed benefits for Colombia's agricultural industry are suspect and do not outweigh the possible negative effects an FTA would have on other sectors.
"First, no amount of agricultural income can [offset] the [suspected] loss [Colombia's] industrial [sector will experience]," said the socialist senator. "This will eliminate tariffs on Korean products, Colombian farmers [will] have to compete with agricultural powers that dominate the Asian market. 93% of Korea's agricultural imports are controlled by four agricultural powers: the United States, New Zealand, Australia and China. How can we compete with producers in these countries in Korea, if we are defeated in Colombia?" asked Robledo.
The senator's concern for his country's industrial industry was echoed by the president of Asopartes, a country-wide association of automotive part manufacturers. Colombia's automobile industry is widely considered the sector that will be most vulnerable if the South Korea FTA is passed.
"The Korean government subsidizes 50% of [its] utilities industry, [it] does not charge levies...So if the FTA takes effect without [Colombia's] industry given the tools to compete in this market, [it will] simply end the national production [in] a merciless way," said Tulio Zuloaga Revollo, Asopartes' president.
A study by Colombia economic and social policy think tank Fedesarrollo estimated that exports to Colombia from South Korea would increase by 29% where exports from Colombia would only increase 8%.
Colombia initiated free trade agreements with the United States and South Korea in 2012. An FTA with the European Union has stalled in Colombia's congress though it is expected to be implemented in March.
If implemented, the FTA with South Korea, will last for the next 10 years.
---