FTAs push S. Korean farmers into 'sink or swim' crises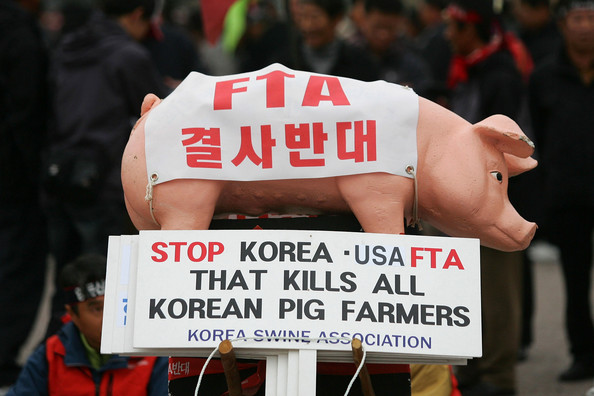 Asahi Shimbun | July 11, 2012
FTAs push S. Korean farmers into 'sink or swim' crises
By MARI FUJISAKI/ Staff Writer
JECHEON, South Korea—Hailed as a boost for the South Korean economy, a flurry of recent free trade agreements has instead left longtime hog farmers such as Son Byeong-ok in tears.
Son, 53, who raises about 2,000 hogs in the central mountainous region of Jecheon, is devastated.
"I don't know if I can last another year or two in this business," he said.
Son and other pig farmers are increasingly finding themselves in a pickle after the European Union began exporting pork bellies, a fixture in the Korean diet, for less than one-third of the local price under the FTA that took effect in July last year.
Jeon Tae-je, chairman of the association of livestock farmers here, expressed concern about the future of animal husbandry after another blow, the much-debated FTA with the United States, took effect in March.
"There are large numbers of farmers raising cattle and pigs in the region," Jeon said. "If things are left as they are, the whole city will go bankrupt."
With the FTA with the United States, the price of a female calf, an indicator for future profits in cattle trading, has declined.
Ranchers in Jecheon are apparently not well equipped to compete with a growing tide of foreign imports. Their average age is 63 and each raises 13 heads of beef cattle on average, according to the association.
Government loans are available for farmers to help ride out tough times following the free trade deal. But older farmers are reluctant to take out loans because they are afraid that they will not be able to repay them.
"Some ranchers are even selling their cattle to pay back their debts," Jeon said.
After South Korea moved to open its agricultural market following the Uruguay Round of multilateral trade negotiations in the early 1990s, Seoul gave preferential treatment to livestock ranchers, including a program to renovate their facilities, to help raise their competitiveness.
"When I began raising pigs 25 years ago, I had hope and generous government support," Son said.
South Korea, seeking to bolster its exports, is aggressively pursuing a strategy to become a hub for FTAs.
It has concluded FTAs with 10 nations and regions since 2004, starting with Chile that year.
As of August 2011, trade under such free trade deals accounted for 25 percent of South Korea's overall trade value. Japan's comparable figure is 18 percent.
Seoul is now set to enter talks with Beijing over a free trade deal that would boost the percentage even further.
Lowered tariffs under FTAs have brought a significant change in South Korea's agricultural landscape.
The number of farmers stood at 4.03 million in 2000, before the pre-FTA age, according to the South Korean government's Statistics Korea. That dropped to 3.06 million in 2010.
Although the farming population was on the downward trend even before FTAs, the pace is accelerating due to government programs that are designed to encourage less competitive or aged farmers to give up farming.
The South Korean government declined to assess the impact of FTAs on the agricultural sector.
"It is premature to gauge the effect now," a government official said. "There is much farm produce we will begin importing several years after the FTA enters into force."
Joo Je-joon, who leads the publicity section of the national movement against the FTA with the United States, said he is concerned that South Korea may eventually open its rice market, although it managed to exempt it from the agreements.
While small-scale livestock farmers are feeling the pinch, some farmers are poised to flourish under the new system.
"I am going to deliver results, taking advantage of the government's assistance programs," said Kim Jong-o, who cultivates peaches in Chungcheongbuk-do province in central South Korea.
One month before harvest, each peach was covered with paper for protection.
In addition, Kim, 52, plans to have a bumpy mountain trail paved with concrete on 3 billion won (about 200 million yen, or $2.54 million) in government subsidies, so that his fruit will not be damaged during transport.
The government earmarked 24.1 trillion won in support to Korean farmers following the FTA with the United States. The fund will be used to push for structural reform, rejuvenate the farming population and enhance full-time farmers' competitiveness through the expansion of operations.
Not all FTAs are proving devastating to South Korean farmers, as it was initially feared that the pact with Chile in 2004 could wipe out the country's grape growers.
While older grape growers and those operating on a small scale were forced to retire, the market actually expanded over the years.
The Ministry of Food, Agriculture, Forestry and Fisheries said that domestic output grew 72 percent between 2003 and 2010.
"The scale of operations became bigger with government's financial support, and the market broadened with the improved distribution network," a ministry official said.
Farmers, for their part, are making an effort to survive the new competitive worldwide market.
One approach is branding.
In the region Kim lives, four agricultural associations jointly created a peach named "Haetsare" in 2003, which means "produce that grew ripe with sunshine."
Sales of the peach more than doubled to 54.4 billion won in 2009, up from 24.9 billion won in 2002.
In Chungju, not far from Jecheon, Ryu Geun-mo, representative director of Jang-an Farm Co., said his farm targets well-heeled customers in South Korea, Japan and China.
The farm cultivates organically grown "sanchu," Korean lettuce, and 100 other kinds of leaves. Its sales pitch is the safety and quality of its produce.
Ryu said that the food market in the three countries will be polarized, one for the well-off and the other for the middle class.
Some farmers are taking a course at a university or other venues to improve their management skills.
Jang Un-bong, a cattle grower in Jecheon, tries to cut costs by making fodder in-house. Jang also opened a butcher shop and beef barbecue restaurant.
Hwang Myung-cheol, general manager at Nonghyp Economic Research Institute, said farmers should change their way of thinking to ride out the tough business climate.
"Some farmers are trying to adjust by honing their management skills," Hwang said. "Rather than resisting a changing time, farmers should think about how to survive the market."
---