German workers warn auto bosses not to compromise rights in TTIP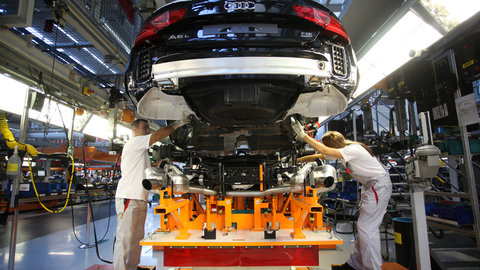 Reuters | 27 Jan 2015
German workers warn auto bosses not to compromise rights in TTIP
Union representatives at Germany's largest carmakers including Daimler and Volkswagen warned auto bosses and politicians on Tuesday not to water down labour rights in negotiations for a transatlantic trade deal.
Politicians on both sides of the Atlantic are pushing for an accord known as the Transatlantic Trade and Investment Partnership (TTIP) to eliminate all tariff barriers between the United States and European Union.
Auto bosses have endorsed the deal but the renewed campaign to open up markets has met with scepticism from Germany's powerful labour representatives.
"We will not accept a softening of standards for environmental and consumer protection or a hollowing out of worker rights and the right to co-determination," trade union IG Metall said in a joint press release also signed by the German labour representatives of Daimler, BMW, Ford, Opel and Volkswagen's divisions VW, Porsche and Audi.
While fewer tariffs and the establishment of common technical standards are beneficial, any trade deal should ensure that the right of labour representatives to vote on significant strategy goals - such as shutting down a factory - should also be possible in the United States, the statement said.
In Germany, labour representatives at large corporations get half the seats on the board of directors, giving the so-called works council a powerful voice in determining company strategy.
Volkswagen and Daimler's labour representatives have in the past flexed their muscles to force management to water down cost cutting measures and even blocked the contract extensions of chief executives.
Advocates of the TTIP, including Daimler Chief Executive Dieter Zetsche and German Chancellor Angela Merkel, say the accord would bring big economic returns to Europe's weak economy by removing barriers to do business.
IG Metall, however, said key clauses of the TTIP are unacceptable to them - in particular, the so-called investor-to-state dispute settlement (ISDS) mechanism which allows corporations to sue governments for loss of revenue if they choose to ban a product.
The European Commission, which handles trade policy for the EU's 28 countries, has frozen negotiations with Washington on the ISDS issue and needs to restart them to win a deal with the United States, which wants strong investor protection.
The European Parliament, which must ratify an agreement, says it cannot accept an EU-U.S. trade agreement that contains such provisions. (Reporting by Edward Taylor and Jan Schwartz; Editing by Mark Heinrich)
---