Gov't mulls profit-sharing scheme for FTA-hit farmers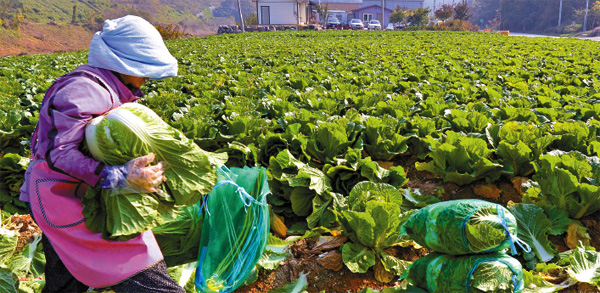 Yonhap | March 13, 2015
Gov't mulls profit-sharing scheme for FTA-hit farmers
SEJONG, March 13 (Yonhap) — South Korea's agriculture ministry said Friday that it is considering requiring firms that benefit from the country's free trade agreements (FTAs) to share some of their profits to help make up for losses suffered by farmers, which has led to strong opposition from the business circle.
While meeting with reporters earlier this week, Agriculture Minister Lee Dong-phil said the government will "come up with thorough measures that will help minimize damage from FTAs to our farmers and actively consider introducing a profit-sharing system."
A ministry official said research by the Korean Agricultural Economic Association was already underway to determine the viability of implementing such a system with its outcome expected before the end of June.
Under the profit-sharing scheme, the government will collect additional taxes or donations from companies that benefit from the country's free trade pacts and use the money to help make up for any losses in the agricultural sector.
The move follows a meeting between the ruling and main opposition parties, in which the rival parties demanded the government come up with better and more specific ways to help correct any damage from FTAs to local farmers and fishermen.
The meeting, held late last year, originally sought to discuss possible damage from the country's bilateral FTAs with Australia and Canada, both of which have since been implemented.
The country is now moving to enact a bilateral FTA with China, which is expected to be the largest of its kind signed by South Korea. The Korea-China FTA is expected to be signed in the near future after it was initialed last month.
The move, however, comes amid strong opposition, especially from the country's industrial sector, which generally benefits the most from free trade pacts.
A bill on a revision to the special law on support for farmers that seeks to introduce the profit-sharing system has been pending in the parliamentary legislation and judiciary committee since 2012, partly due to opposition from businesses that claim the system only means double taxation.
An official from the Ministry of Trade, Industry and Energy also expressed strong opposition Friday, noting such a system cannot be found in any other democratic nation.
"Another major problem is that we cannot determine which company benefited how much from the implementation of any given FTA as a rise in the company's profit could very well be the result of years of effort to develop overseas markets by the company," the official said, asking not to be identified.
An official from the agriculture ministry acknowledged such an argument existed.
"Realistically, it is not easy to determine how much should be collected from whom," he said, while also speaking on condition of anonymity. "The ongoing study by the Korean Agricultural Economic Association will see if there is a way to collect needed funds other than taxes, as well as who will have to pay how much for what reason."
---