Half million Germans refuse to sign FTA with USA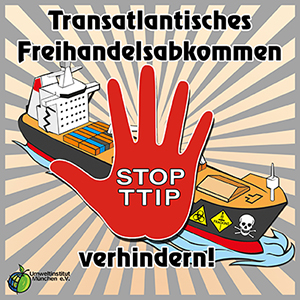 Prensa Latina | 19.12.2013
Half million Germans refuse to sign FTA with USA
Berlin, Dec 18 (Prensa Latina) — The debate over the signing a Free Trade Agreement (FTA) by the European Union (EU) and the United States sparks off even more rejection in Germany, the local press reports today.
In just five days, 500,000 Germans signed a petition addressed to the European Commissioner for Trade Karel De Gucht and to President of the European Parliament, Martin Schultz to halt the negotiations that began in Washington.
With the petition, titled "No gifts for Monsanto, BASF & Co", the signatories warn about a damage to democracy in Europe.
"This campaign against the FTA is the most successful we have ever launched", affirmed Maritta Strasser, who is with the Campact non-governmental organization, the main organizer of the initiative.
An alliance comprised of different social organizations announced a media campaign to make public the possible consequences of the E.U.-U.S. treaty.
---