Heinrich Böll Stiftung - re:negotiate (ttip)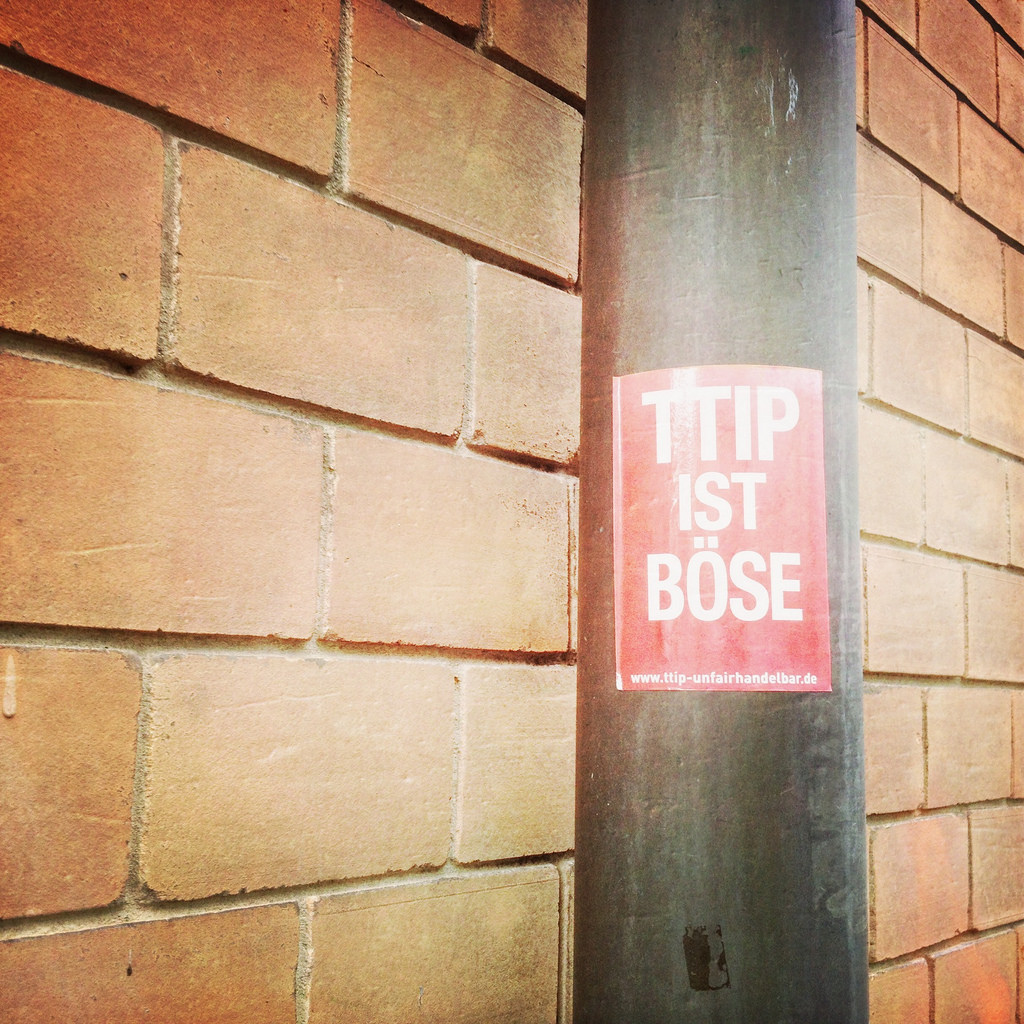 Atlantic Community | November 12, 2014
Heinrich Böll Stiftung - re:negotiate (ttip)
International Forum for Stakeholders and Experts
Monday, November 17, 2014 (10.00 am - 7.00 pm)
Heinrich Böll Stiftung
Schumannstr. 8
10117 Berlin
The ongoing negotiations about the Transatlantic Trade and Investment Partnership (TTIP) have been accompanied by two massive campaigns: The trade and industry lobbies have been portraying the prospective treaty as a promise for economies and strategic cooperation in Europe, the US and beyond. Large shares of global civil societies have been mobilizing against the treaty — they point to the risks for consumer protection, environment and justice around the world.
During this conference we look at what has been accomplished and discuss what lies ahead. We broaden the topics and invite voices from outside Germany and Europe to bring their perspectives to the table. We offer an opportunity for stakeholders and experts to discuss and learn from each other about issues that might one day determine how we live, trade and consume.
The open discussion format allows to gain new perspectives and participate in discussions. Civil society representatives are invited to distribute their materials and advocate for their causes at open tables. A networking room offers an opportunity to reconnect with old partners and make new contacts.
Register through the Heinrich Böll Stiftung site.
09.30 am Registration
10.00 am Welcome and Introduction
Daniel Hamilton, Executive Director, Center for Transatlantic Relations, Johns Hopkins University, USA
Ralf Fücks, President, Heinrich Böll Foundation, Germany
10:30 am Racing to the bottom or greening the trade? TTIP, climate change and energy policy
Nick Mabey, Director E3G, UK
Kristine Berzina, German Marshall Fund of the United States
Maja Volland, Friends of the Earth, Germany
Chair: Bastian Hermisson, Office Director, Heinrich Böll Foundation, Brussels
11.45 am Break
12:00 pm Engaging or Dictating? What TTIP means for the world
Vladislav Inosemzev, National Research University – Higher School of Economics, Russia
Cisel Ileri, IKV: Economic Development Foundation, Turkey
Barbara Unmüßig, President, Heinrich Böll Foundation, Germany
Chair: Daniel Hamilton, Center for Transatlantic Relations, Washington
01.15 pm Lunch Break
02.15 pm Unleashing Markets in a Digital Age: TTIP and global data transfer
Glyn Moody, Author and Journalist, UK
Renate Künast, Member of the German Bundestag
Peter Chase, Vice President, U.S. Chamber of Commerce
Erika Mann, Managing Director Public Policy, Facebook Inc.*
Chair: Ralf Bendrath, Senior Advisor, European Parliament
03:30 pm Coffee Break
03:45 pm Workshops
WORKSHOP I:
Investor-State Dispute Settlement: how the public discourse makes a difference
Nils Meyer-Ohlendorf, Ecologic Institute, Berlin
Jörg Wolf, Atlantic-Community, Berlin
WORKSHOP II:
Is regulatory cooperation the next big thing?
Christiane Gerstetter, Ecologic Institute, Berlin
Ernst-Christoph Stolper, BUND, Berlin
04:45 pm Coffee Break
05:00 pm "The West 2.0" – Is TTIP the right response to globalization?
Elena Bryan, Senior Trade Representative at the U.S. Mission to the European Union
Reinhard Bütikofer, Member of the European Parliament, Germany
Maya Rostowska, Polish Institute of International Affairs, Poland
Daniela Schwarzer, German Marshall Fund of the United States*
Lutz Weischer, Germanwatch e.V., Germany*
Chair: Sergey Lagodinsky, Head of Department EU/North America, Heinrich Böll Foundation, Germany
06:15 pm Coffee Break
06:30 pm Final Discussion
Representatives from all panels.
07:00 pm End of conference
* marked speakers to be confirmed
---