How developing countries like India are petrified of being dragged into international arbitration
Economic Times | 9 June 2015
How developing countries like India are petrified of being dragged into international arbitration
By Naren Karunakaran, ET Bureau | 9 Jun, 2015, 04.00AM IST
BITs cannot be banished from the policy regime right now. India is obviously not yet ready or mature for the large mega-regionals.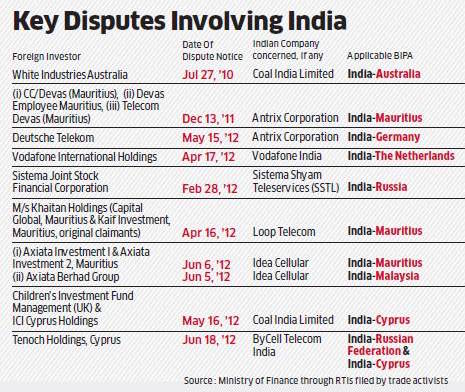 Bruised by a recent cascade of international arbitrations wrought by companies over tax and other issues by invoking provisions in bilateral investment treaties (BITs), Indian policy makers think it's about time to be assertive and even scrap some of these treaties, if need be.
A new model treaty, which will be the cornerstone of all future negotiations, is expected to be frozen this month even as the process of negotiations for a bilateral treaty with the US has begun informally, finance ministry officials told ET. India has signed 83 BITs with various countries over the years, primarily to attract investments and extend some comfort to investors. However, multinational companies, aggrieved over issues within India and elsewhere, are now using these treaties to the hilt.
Though it looks inconsistent with India's public postures on foreign direct investments (FDIs), a finance ministry spokesman indicated national interest wouldn't be sacrificed at the altar of foreign investments.
India is caught in a pincer at this moment in time as it is faced with the twin need of FDIs to propel and sustain growth and also the need to fi rewall its sovereign rights to formulate policies without extraneous pressures from its trade partners and the corporate world.
India is not alone here. A host of developing countries, running scared of being dragged into painful and expensive international arbitration, through the BITs platform, are in a state of 'policy freeze.' Indonesia, for instance, has had to shelve regulation to ban open-pit mining in rainforests under threat of arbitration from corporations. The policy spaces available to nations are being increasingly constricted by BITs.
A 'balancing' act of sorts is therefore emerging here even as the angst and interplay of varied interests in the Indian economic ministries — finance, commerce and industry — are palpable.
"We have reached a stage in development where we can begin to dictate," says the ministry spokesman, even as he qualifies it with the need to be 'empathetic' to the interests of foreign investors and that "one cannot be unreasonable with the other side." The fact is, India is in a situation very different from the early 1990s when economic reforms began, and therefore the reluctance to bend backwards. Provisions in many of the 83 BITs signed are in dissonance with the times and are inimical to national interests. In the past two decades, the world has seen a rising number of international investment agreements amongst countries, reaching 3,200; of this 2,902 are BITs.
The setting for this Indian stance, though unstated, is the fact that more and more global companies have begun to utilise the Investor-State Dispute Settlement (ISDS) provision in BITs to sue countries for real or perceived wrongs that inhibit their untrammelled pursuit of profits.
Investor claims against countries through the ISDS mechanism has gone up by 400% since the early 1990s and is beginning to haunt policy makers globally. The years 2012 and 2013 have seen the largest numbers of arbitration in decades; 58 and 56 respectively.
India has already received an adverse arbitration award (White Industries, Australia) in 2011 and is now feeling the heat on recently launched high-profile arbitration moves by Vodafone, Nokia and Cairn Energy (see chart).
The predilection of multinational corporations to avoid domestic legal processes and remedies and head straight for private international arbitration has unnerved many developing, and lately, even developed countries.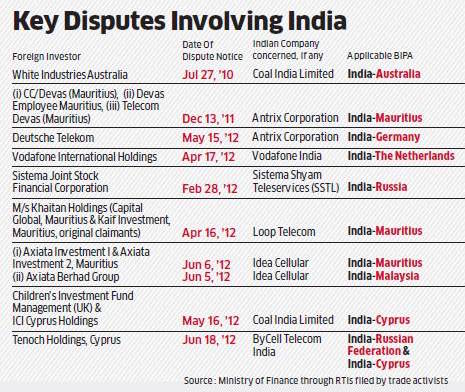 In 2012, Swedish energy giant Vattenfall launched a lawsuit seeking $4.6 billion for lost profi ts when Germany decided to phase out nuclear energy following the Fukushima disaster. Tobacco giant Philip Morris is suing Uruguay and Australia for their anti-smoking regulations. Spain is seeing a raft of arbitrations on altering its policy over solar energy subsidies. Argentina has been sued more than 40 times over its reforms programme after its 2001 economic crisis. Arbitration awards can also be crippling to a country; Ecuador has to pay around $2.4 billion to oil giant Occidental Petroleum for revocation of an oil concession.
"These perverse incentives to foreign investors which also skew the playing field against domestic investors is unsustainable," says Biswajit Dhar at the Centre for Economic Studies and Planning, JNU.
Kavaljit Singh, director of the Delhibased Madhyam, a policy research institute also laments the one-sided nature of BITs. Can an individual or community or institution here haul a foreign company in India to international arbitration for polluting the environment, corruption or other violations of the law, he asks.
Interestingly, in the treaties context, the gulf between developed and developing countries is thinning and several European Union countries, including Germany, either want to excise or recalibrate the dreadful ISDS component in the many treaties being negotiated globally, including the mega-regionals; the Trans-Atlantic Trade and Investment Partnership (TTIP) between the EU and US and the Trans Pacific Partnership (TPP.) Brazil is seen as a path breaker here for its parliament has refused to ratify its BITs. South Africa too has pushed BITs to the policy ghettos.
Numerous academics from Harvard, Yale, and Stanford including nobel laureate Joseph Stiglitz of Columbia University are campaigning against the larger issue of what Stiglitz describes as 'the secret corporate takeover' of trade agreements which is seen as perilous to democracy; it restricts the power of nation-states to legislate and also fosters a parallel, private judicial system which is opaque, unaccountable and unreviewable. There is no appeal in the ISDS mechanism.
India is contemplating corrective measures which include amendments and renegotiation or scrapping of some existing BITs. It is also examining suggestions for amendments to a 'model treaty.' But pressures are already at work. It remains to be seen how much of the improvements in the model text will be expunged. Critics frown upon 'tightening the reins so much that it loses its identity as an investor protection treaty' and that the text is more 'a declaration asserting the right of the government to regulate...'
The model treaty crafted by India has kept taxation measures, issuance of compulsory licences in the pharma sector out of the scope of arbitration and has also adopted an 'enterprise'-based definition of investment with an emphasis on 'real and substantial business operations' with a long-term commitment of capital. Much of the ambiguity in definitions, which companies hitherto exploited, has been removed.
Under ISDS, India has now clarified foreign companies are expected to exhaust domestic administrative and legal avenues before going into international arbitration. "If corporations are so jittery, they can buy political risk cover," says Singh. Stiglitz also maintains that investors who want protection from expropriations can buy insurance from the Multilateral Investment Guarantee Agency, or the US or other governments that provide similar insurance. Why fuel the draconian ISDS? India is engaging in multilateral initiatives like the Regional Comprehensive Economic Partnership; a proposed free trade agreement between the Asean countries and Australia, China, India, Japan, South Korea and New Zealand, and is also keenly watching the progress of the TTIP and TPP. But, for the near future, the finance ministry spokesman says that India will have to bank on BITs.
BITs cannot be banished from the policy regime right now. India is obviously not yet ready or mature for the large mega-regionals. Singh welcomes the improvements in the new model treaty but would like to see India negotiate future BITs from a position of strength, like China does. He cites examples. China signed a BIT with Canada recently after four years of negotiation.
It insisted that every Canadian investment, before coming into China, will be screened. This was ceded. China negotiated hard on the 'pre-establishment national treatment' and got for itself a waiver on pre-screening of Chinese investments into Canada. It got for itself what it didn't give Canada. Again, in the BIT with Taiwan, China did away with the ISDS chapter.
The other reason quoted for BITs' relevance for India now is the growing outward direct investments by Indians. The ministry insists it has to be mindful of this trend. The interest of Indian companies abroad has to be protected. Apart from the emergence of India's multinationals, interestingly, many medium scale Indian companies are acquiring small companies abroad. Dhar doesn't buy this argument and demands a hard-nosed evidence-based exercise to determine the relevance of BITs. Singh too wonders whether BITs are needed. Investors in large projects can have a one-on-one agreement with host countries.
BITs or BIPAs (bilateral investment promotion and protection agreement) as they are also known are expected to attract FDI into a country. Have they? KS Chalapati Rao of the Institute for Studies in Industrial Development, who is steering an ongoing study on FDI, as many others, rules out any correlation between BITs and FDI flows. Brazil, which hasn't ratified any BITs, receives the largest FDI in Latin America. Even Unctad, in its Trade and Development report of 2014, arrives at the conclusion: "BITs appear to have no effect on North-South FDI flows.
---