How global trade deals could impact universities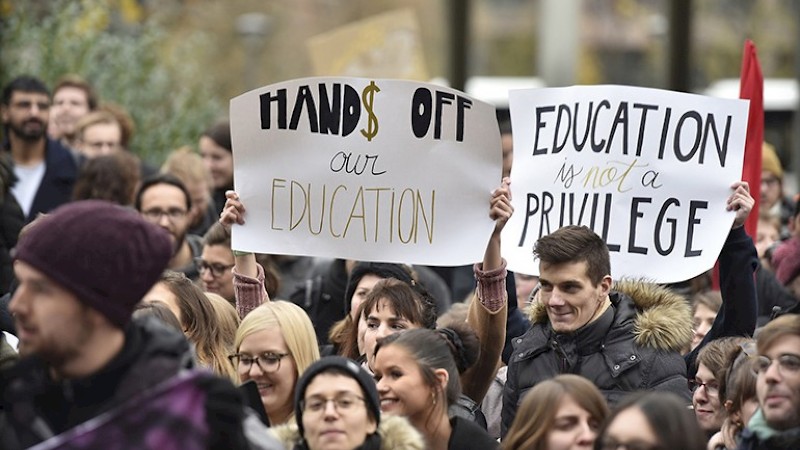 Times Higher Education | 7 June 2018
How global trade deals could impact universities
By David Matthews
Ceta, TPP, TTIP, Tisa – the acronym-strewn world of global trade negotiations might at first sight seem to have little to do with universities and higher education.
But, according to some unions and universities, the extraordinarily complex and often secretive deals being hammered out by the US, the European Union and other parties could threaten public higher education as we know it, stripping national governments of their right to protect public universities against for-profit newcomers, and make free choices over policy all but impossible.
Not everyone is convinced that the danger is quite that severe, and the election of globalisation-basher Donald Trump in the US has put several of these liberalising treaties on ice.
Still, as higher education becomes more competitive globally – with Western universities setting up branch campuses in Asia, for example – trade deals are becoming increasingly important for universities, said Howard Davies, who analyses their implications for the European University Association. "We think it's rising up the agenda of higher education," he said.
The issue has long been on the EUA's radar, and in 2015 its board declared that higher education "should not be subject to international trade regimes" because it was a "public responsibility to which all citizens have right of access", not a "commodity to be transacted by commercial interests on a for-profit basis".
Advocates of such deals tend to argue that they allow freer international trade, spurring economic growth. But critics often view them as little more than tools to protect the overseas profits and investments of corporations, while doing nothing for workers and leading to the privatisation of public services.
Deals normally contain rules that make sure national governments cannot favour certain companies over others – after all, no one wants to invest overseas if they know that a local competitor will be propped up by state subsidies. But the fear is that these rules, designed to create a commercial level playing field, will ensnare universities as well.
Typically, big trade agreements exclude areas that are "supplied in the exercise of government authority", and which are not supplied "on a commercial basis, nor in competition with one or more services suppliers", according to a report, What Educators Need to Know about Global Trade Deals, released last year by Education International, a federation of teachers and education employee unions.
But, given how commercialised much of education has become, the report concludes, it would not be covered by this exemption.
The European Commission has repeatedly tried to reassure citizens that it will protect public services during negotiations. But "it's very very difficult to specify what is a public higher education institution", said Dr Davies. "In trade partnerships, these categories are not necessarily going to stand up."
If universities are not exempted, this could potentially mean that governments would have to offer students who attend for-profit institutions the same access to student loans as other students; would be unable to limit the number of universities; or would find it harder to regulate quality, said Louise Høj Larsen, a programme officer at Education International. Under the agreements, "you can't give more favourable conditions to national providers than a foreign provider", she said.
For example, foreign providers could argue that even standardised quality regulations are excessively burdensome, because they have to follow so many different sets of rules in different countries, she said.
It's even a "possibility" that trade rules could force governments to hand over a chunk of their central teaching and research budgets to for-profit foreign institutions, she said, while noting that it was "not crystal clear".
Ms Høj Larsen admitted that there are not yet any "concrete" examples where trade treaties have interfered with higher education.
But she pointed to the UK, where lawmakers and the National Audit Office have raised concerns about hundreds of millions of pounds in student loans being taken by private providers with dropout rates well above the national average.
International trade deals are not to blame for this situation. But in other public services, they have restricted governments that have tried to address issues, Ms Høj Larsen argued. For example, in 2012, Achmea, a Dutch insurer, won €22.1 million (£19.5 million) after it sued the Slovakian government for trying to reverse the privatisation of its health insurance market, according to Reuters (although earlier this year the EU's top court ruled against these kinds of tribunals settling disputes within the EU).
International trade deals often include a so-called "ratchet" clause, a much maligned mechanism that critics say in effect prevents governments deprivatising parts of their economy after the agreement is signed.
They are embedded in the Comprehensive Economic and Trade Agreement (Ceta) between Canada and the EU, which has been agreed by the EU but not all member states and is only partly in force, and also in the Trade in Services Agreement (Tisa), a gigantic deal being negotiated between 23 parties including the EU, the US, Canada, Japan and South Korea (although no progress has been made since Mr Trump's election).
These "ratchet" clauses will make it "almost impossible" to take a private university sector back under national control, said Ms Høj Larsen, limiting governments' policy options.
Along with other clauses, they "require that the level of service liberalisation can never be reduced, that any change can operate only in the direction of further liberalisation", the EUA has warned.
Also of concern are so-called investor-state dispute settlement systems, baked into agreements such as Ceta and the Transatlantic Trade and Investment Partnership (TTIP) mooted between the US and the EU (another agreement that has been shelved under Mr Trump). These allow companies to sue governments if they feel that they have not been treated fairly under the terms of trade treaties.
The fear is that for-profit education businesses are waiting at the sidelines, ready to pounce on public higher education if and when these treaties are signed. Tino Brömme, director of European Higher Education News, has claimed that the US-based Apollo Education Group, owner of the for-profit University of Phoenix, which has been through multiple controversies over its recruiting practices, "could operate in Europe and insist on the equal treatment principle as well, demanding the same subsidies as local public universities". Under the rules of global trade treaties, "companies are able to bid for public funds in the same way as public institutions", he told Times Higher Education.
Apollo also owns BPP, the UK-based provider of professional training, and in 2015 made its first foray into Germany, buying Career Partner, a for-profit college (although it was sold off just two years later). Apollo did not respond to a request for comment about its strategy.
Not everyone is convinced that global trade deals will block national governments' freedom to manoeuvre as drastically as unions fear. In the EU, "member states will have considerable power over deciding what access they will give" to overseas firms, said the EUA's Dr Davies. Some countries have sizeable restrictions; the UK allows "access by all comers" – but still these remain national decisions, he argued.
Although Mr Trump's election has torpedoed progress towards the implementation of several treaties – the Trans-Pacific Partnership, TTIP and Tisa – another between the EU and Japan is set to be signed off in July, said Ms Larsen, which does not exclude education. This year, the EU also announced that it wants to negotiate new free trade deals with Australia and New Zealand, she added, with further uncertain consequences for universities.
These negotiations are a "black hole", she argued. "People think it has nothing to do with education, but then they find out that education is part of these agreements."
---