How TPP can disrupt ASEAN economic integration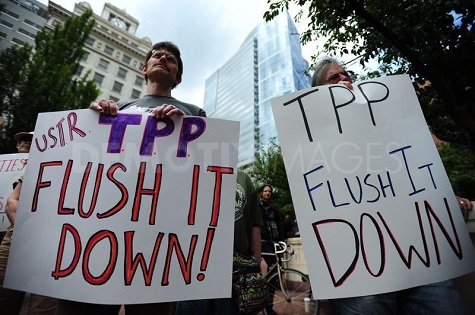 The Jakarta Post | 6 January 2016
How TPP can disrupt ASEAN economic integration
by Shohib Masykur
The ASEAN Community officially kicked off as we entered the year 2016. The most important pillar of the ASEAN Community is the ASEAN Economic Community (AEC), which according to the Bali Concord II Declaration aims "to create a stable, prosperous and highly competitive ASEAN economic region in which there is a free flow of goods, services, investment and a freer flow of capital, equitable economic development and reduced poverty and socio-economic disparities".
In short, it was created to achieve economic integration in Southeast Asia.
At the same time, nearly three months before the kick-off, 12 Asia-Pacific countries concluded the Trans-Pacific Partnership (TPP) negotiations. Among those 12, four are ASEAN members: Brunei, Malaysia, Singapore and Vietnam.
The inclusion of some ASEAN members in the TPP and the exclusion of the rest has potential disruptive effects on ASEAN economic integration in three aspects: trade and investment diversion, increasing gaps between countries and growing negative sentiments among ASEAN leaders.
Trade and investment diversion occurs when trade and investment move away from one country to another country as a result of trade agreements.
In ASEAN's case, trade and investment will potentially be diverted from non-TPP ASEAN members (i.e. ASEAN members that are not part of the TPP) to TPP ASEAN members (i.e. ASEAN members that are also TPP members). The diversion is due to the benefits that the TPP offers to its members, such as lower trade barriers and better protection for foreign investors.
Trade and investment diversion caused by the TPP is significant because the US, Japan and Australia (all TPP members) are among the top 10 trading partners of ASEAN.
Together they account for US$511 million worth of trade, 20.2 percent of total ASEAN trade in 2014, only a little less than ASEAN intra-trade, which represents 24 percent.
As for foreign direct investment (FDI), the US, Japan, Australia and Canada are among the top 10 sources of FDI inflow to ASEAN. Together they account for $33.3 million, 24.5 percent of total FDI in ASEAN in 2014, higher than intra-ASEAN FDI, which represents 17.9 percent.
From the perspective of regional integration, trade and investment diversion is a direct attack against one of the AEC's most important characteristics: a single market and production base.
Economic disparities between ASEAN countries have been huge from the beginning. ASEAN consists of countries with populations as big as Indonesia (252 million) and as small as Brunei (413,000), gross domestic product (GDP) as high as Indonesia (US$984 billion) and as low as Laos ($12 billion), GDP per capita as high as Singapore ($56,000) and as low as Cambodia ($1,000), international merchandise trade volumes as high as Singapore ($776 billion) and as low as Laos ($5 billion) and FDI inflow as high as Singapore ($72 billion) and as low as Brunei ($568 million) — all in 2014 data, according to the ASEAN Secretariat.
The TPP will potentially further increase the already-existing gaps between ASEAN countries because ASEAN TPP members will likely improve in those indicators at the expense of other members. Additionally, the TPP will also potentially increase gaps in economic management.
Due to the high standards required by the TPP, ASEAN TPP members will be motivated to enhance their economic management capacities (better rules and regulations, more efficient production and so forth).
Those countries will allocate more resources to do so because, unlike non-TPP ASEAN members, they have incentives to do so.
One of the reasons behind the creation of the AEC was to avoid some ASEAN countries pursuing their own economic agendas in the region at the expense of the other members. Thus, the AEC seeks to strengthen trade and investment links with non-ASEAN countries through a coherent approach.
Rather than acting individually, ASEAN countries agree to collectively negotiate with other countries and throughout the process ASEAN should maintain its central role.
However, the TPP is destroying the harmony by splitting ASEAN into two categories: TPP ASEAN members and non-TPP ASEAN members. The division could revive the old fear that some ASEAN members will pursue invididual economic interests at the expense of region-wide collective economic interests.
For example, at the World Economic Forum on the Asia-Pacific held in Jakarta in April 2015, Cambodian Prime Minister Hun Sen said, "We should review again […] why the Trans-Pacific Partnership did not include 10 ASEAN members. What is the purpose, real intention of establishing [the] Trans-Pacific Partnership […] that they include half of ASEAN to be partners […] leaving half of ASEAN outside?"
His statement echoed what the Philippines' Finance Secretary Cesar Purisima said earlier: "If there's a lag between the joining of the others in a high-quality agreement such as TPP, there can be resentment, especially as we continue to integrate."
The growing disappointment among ASEAN leaders sends an alarming signal to the organization that can endanger its integration.
---