Huge crowds in Costa Rica protest US pact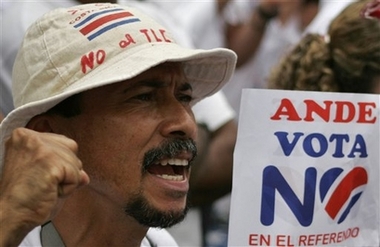 Reuters | Sun Sep 30, 2007
Huge crowds in Costa Rica protest U.S. pact
By John McPhaul
SAN JOSE, Costa Rica (Reuters) — More than 100,000 Costa Ricans, some dressed as skeletons, protested a U.S. trade pact on Sunday they say will flood their country with cheap farm goods and cause job losses.
Chanting "No to the free-trade pact!" and "Costa Rica is not for sale!" demonstrators filled one of San Jose's main boulevards to show their opposition against the Central American Free Trade Agreement with the United States.
"The trade deal is putting at risk our workers' rights. We need an accord with the United States, but not this way," said Juan Chacon, a 50-year-old computer technician.
In the searing heat, some protesters wore masks of U.S. President George W. Bush and handed out fake dollar bills, lampooning U.S. trade policies.
A small contingent of pro-trade demonstrators turned out at the rally. A plane pulled a banner across the skyline reading: "Yes to the free-trade accord, for the benefit of the nation!" The drone of the plane's engine drowned out some of the protest speeches.
A government official told Reuters that more than 100,000 people turned out for the demonstration, a huge protest in a country of 4 million.
Costa Rica is the only country that has not ratified CAFTA — which includes Guatemala, El Salvador, Honduras, Nicaragua and the Dominican Republic — and will be the only nation to decide the issue by referendum.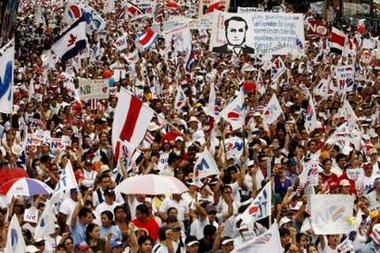 The October 7 referendum has split the nation, with Costa Rican President Oscar Arias and some businesses saying CAFTA will bring investment and jobs. Opponents say it will mean a flood of cheap rice and dairy imports and limit the country's sovereignty by taking investment disputes to international arbitration.
Arias, who won the Nobel Peace Prize in 1987 for brokering a Central American peace plan during his first term as Costa Rica's president, says it would be "collective suicide" if Costa Rica rejects CAFTA.
The White House struggled to win support for CAFTA in the U.S. House of Representatives in 2005, where a partisan battle almost killed the deal.
A poll last week showed a slim majority would support CAFTA, with 50.6 percent saying they'd vote "yes," while 44.7 percent said they opposed it. The poll's margin of error was 3.8 percent.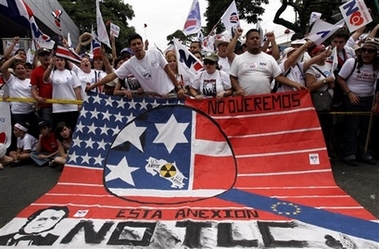 ---