Human rights campaign sues European Union over continued economic ties with Israelis
Palestine News Network | 02.09.09
Human rights campaign sues European Union over continued economic ties with Israelis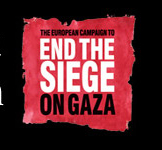 Brussels / PNN – The European Union is being sued over its relationship with the Israelis.
The European Campaign to Lift the Siege on Gaza, in cooperation with European institutions and individuals, has filed a lawsuit.
This is the first of its kind against the European Union.
The purpose, organizers say, is to force the EU to end its economic partnership agreement with the Israelis. The Campaign noted the ongoing "aggression and the imposition of the blockade on the Palestinian people, especially since the terms of this agreement include that Tel Aviv respect human rights."
In a statement sent to PNN today, the European Campaign to Lift the Siege on Gaza wrote that it has asked the EU time and again to cancel or suspend its partnership agreement and economic relations with the Israelis. "But the European Union until this moment has rejected taking action in this direction in spite of gross violations of human rights that occurred in the war on Gaza and the war crimes committed against Palestinian citizens, especially the unfair siege imposed for more than three years in a row."
The lawsuit was launched at the beginning of the month and is being issued to the European Court of Justice.
---