In India, Japanese are the rivals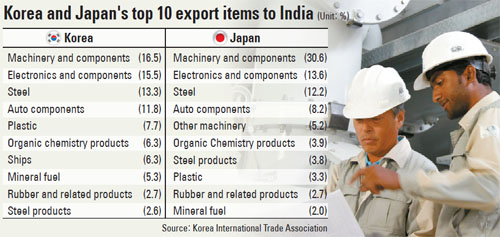 Joong Ang Daily | April 04, 2011
In India, Japanese are the rivals
Korean companies should be prepared for fierce competition with Japanese rivals in India following New Delhi's signing of a free trade agreement with Tokyo, a local trade body said yesterday.
Japan and India signed a comprehensive economic partnership agreement (CEPA) in February, which, once implemented, will remove around 94 percent of import tariffs on both sides, according to a report by the Institute for International Trade. Korea and India signed a similar trade deal in August 2009 and the agreement came into force at the beginning of last year. The Korea-India trade deal, however, eliminated only 80 percent of import duties.
"South Korean firms need to take measures to boost price competitiveness and marketing in India as Japanese companies are set to expand their presence there," the institute said in a report.
Meanwhile, Japan is already Korea's largest competitor in India, the world's second most populous nation and fourth-largest market. According to the Korea International Trade Association, Korea's top four export items to Japan overlap with that of Japan's, which are auto components, machinery, electronic goods and steel. Machinery and parts account for 16.5 percent of Korea's total exports to India, followed by electronic goods with 15.5 percent, steel with 13.3 percent and auto components with 11.8 percent. Japan's largest share of export items to India is also accounted by machinery and parts with 30.6 percent, electronic goods with 13.6 percent, steel with 12.2 percent and auto components with 8.2 percent.
"The Japan-India CEPA may come into effect before the end of the year at the earliest, which makes it more urgent for our country to carefully review its strategies and any change of conditions in the Indian market," the institute said, noting that the country should improve its brand image and distribution channels.
By Lee Eun-joo, Yonhap
---