India-EU FTA will imperil lives, local industry, say activists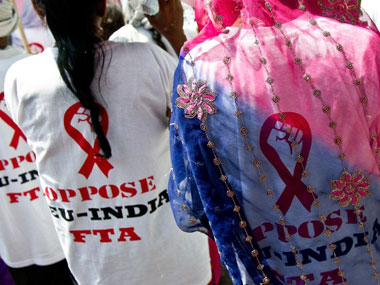 Firstpost | Apr 10, 2013
India-EU FTA will imperil lives, local industry, say activists
by Arlene Chang
New Delhi: A large number of people living with HIV, cancer patients and health activists took to the streets of Delhi today asking government of India not to sign a Free Trade Agreement (FTA) with the European Union (EU) as it would be detrimental to the interests of tens of thousands of people like them in the country.
Holding placards that said: "EU FTA kills patients", "FTA kills domestic production of medicine" and "No Pyaar with IPA" (No love for Intellectual Property Rights), about 250 people gathered at Jantar Mantar this afternoon calling on the Indian government to reject the region's demands in the EU-India FTA.
The protests coincide with Prime Minister Manmohan Singh's three-day visit to Germany where he will meet with German Chancellor Angela Merkel and co-chair the second round of Inter-Governmental Consultations (IGCs). Singh is looking at cementing greater trade and investment ties with Germany and the FTA will top his agenda. India's Commerce Minister, Anand Sharma, will be in Brussles for ministerial-level negotiations to finalise the FTA terms on April 14 and 15.
Singh is looking at cementing greater trade and investment ties with Germany and the FTA will be top of his agenda.
A person living with HIV and the president of Jagrut HIV Aids, 43-year-old Ram Lakhan, said he was at the protest to make his voice heard. "We have to stop FTA so that medicines for people like me will not become more expensive," he said.
Even as both sides push for a swift close on the FTA, latest leaks in the negotiating texts show that the EU's demand for intellectual property enforcement and investment provisions – which will require India to go beyond its World Trade Organisation (WTO) commitments – will have an adverse impact on access to medicines across the developing world.
Anand Grover, senior Counsel and Director of Lawyers Collective HIV/AIDS unit said that the inclusion of enforcement provisions in the FTA will undermine the Indian judicial system and deprive people of access to justice. He said: "Such provisions will not only undermine fundamental rights such as the right to health and access to medicine, they also threaten to subvert the fundamental tenets of the Constitution of India."
Grover said that it also doesn't help that investment treaties are held in secret and are overseen by arbitrary tribunals – mostly in the developed world.
Loon Gangte of the Delhi Network of Positive People, who was diagnosed with HIV in 1997, resonated Grover's sentiments and said that the FTA would mean "millions of poor people will die".
"The legal and financial muscle of big pharma is already on display in India. They hire the country's top lawyers and sue the Indian government and patients in patent cases. With the Indian courts upholding the Constitution, this mechanism is a despicable attempt by the Europeans to bypass the Indian Constitution and courts and move the litigation into secret tribunals overseas on the pretext of investment protection," Gangte said.
"If they want to have a trade agreement, let them, but if the agreement is going to trade my life I will fight tooth and nail," Gangte said.
Earlier this month, a division bench of the Supreme Court of India, dismissed drug major Novartis' appeal for a patent for its anti-cancer medicine imatinib mesylate or Glivec. The Cancer Patients' Aid Association (CPAA) along with many other generic drug manufacturing companies had opposed Novartis' patent application for Glivec.
"Having failed to get their way at the Supreme Court in the Novartis case, we can expect the EU to push its industry's demands for change in the Indian law to curb the Indian judiciary," YK Sapru, founder and chairman, CPAA, said.
Health groups are also concerned over the EU's data exclusivity demands. Grover said that while the FTA may not completely override the TRIPS (Trade Related Aspects of Intellectual Property Rights) flexibilities allowed by the WTO, it will harm it indirectly.
He explains: "They can't override TRIPS flexibilities like compulsory licensing on life saving drugs, but with demands for patent term extensions and data exclusivity compulsory licensing will be badly affected and generic companies will not be able to produce generic medicines."
This, says Shiba Phurailatpam, Director of the Asia Pacific network of people Living with HIV (APN+), will have a ripple effect not just in India but in many countries beyond India's borders because "India is the pharmaceutical of the world".
"The majority of people living with HIV in the Asia-Pacific take Indian generics. We strongly support the Indian government in saying no to the EU's deadly demands," he said.
"The supply line of cheap medicines must be maintained for the health of the poor across the world. I am HIV+ and I have been taking medicines for the last 13 years now. I look fine, I work full time and I have a family," Phurailatpam said.
"Without the medicines, I would have been a dead man."
---