India signs FTA with ASEAN amidst protests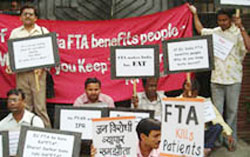 India Signs FTA With ASEAN Amidst Protests
New Delhi (August 13, 2009): India finally signed the Free Trade Agreement (FTA) with 10 nations South Asian bloc ASEAN amidst concerns and protests from within the cabinet, state governments and NGOs.
The FTA would eliminate tariffs on over 4000 products including electronics, chemicals and textiles, that account for more than 80 percent of total trade in goods between the two sides. Tariffs on those products would be reduced to zero by 2016.
Labour organisations, farmers, civil society organisations and experts urged the government of India not to implement India-ASEAN FTA
"We are dismayed by the fact that government of India signed the FTA with ASEAN without making the text of the of the FTA public or even engaging in an informed debate in the parliament despite apprehensions expressed by farmers, workers and fishers that it will have adverse impact on livelihood and employment. Worse, the government of India has gone ahead with the Free Trade Agreement, neglecting the opposition from some of the cabinet ministers and the government of Kerala, who expressed that the deal will spell doom for agricultural activities, plantation and fisheries. The government of India has also not taken the state governments into confidence on FTA negotiations", said the press statement signed by R A Mittal (Hind Mazdoor Sabha), Yudhvir Singh (Bhartiya Kisan Union), J John (Centre for Education and Communication), Dharmendra Kumar (India FDI Watch), Bhaskar Goswami (Forum for Food security and Biotechnology) and Benny Kuruvilla (Focus on the Global South).
---