Indian companies ask govt to restrict Chinese aluminium imports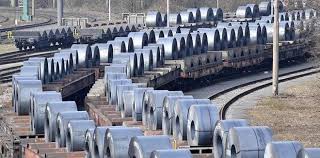 Business Standard | 26 June 2018
Indian companies ask govt to restrict Chinese aluminium imports
by Subhayan Chakraborty
Arguing that recent import duty hikes by the US may see huge amounts of Chinese aluminium scraps being dumped in India, manufacturers have asked the government to curb imports.
Recently, executives from companies, including Vedanta and Hindalco, met Department of Industrial Policy and Promotion (DIPP) Secretary Ramesh Abhishek to request that quantitative restrictions be placed on aluminium imports, which have shot up over the past two years, a commerce ministry official said.
In a presentation made by the Aluminium Association of India (AAI), which was reviewed by Business Standard, the industry told the government that manufacturers were suffered owing to the impact of unfavourable Free Trade Agreements (FTAs). They also sought anti-dumping duties for the majority of imports, but said aluminium should be exempted from the list of items that were currently being discussed for the proposed Regional Comprehensive Economic Partnership agreement. Trade officials of 16 Asia-Pacific countries that form the grouping are set to start the next round of negotiations in Tokyo soon.
In its presentation, the AAI sought "the imposition of quantitative restrictions to the tune of 70 to 80 per cent of annual average imports of the last five years, i.e. 1250 kilo tonnes per annum, to restrict increasing aluminium metal and scrap imports, in line with the US imposing imports quotas." It also demanded that the industry be classified as core industry with benefits.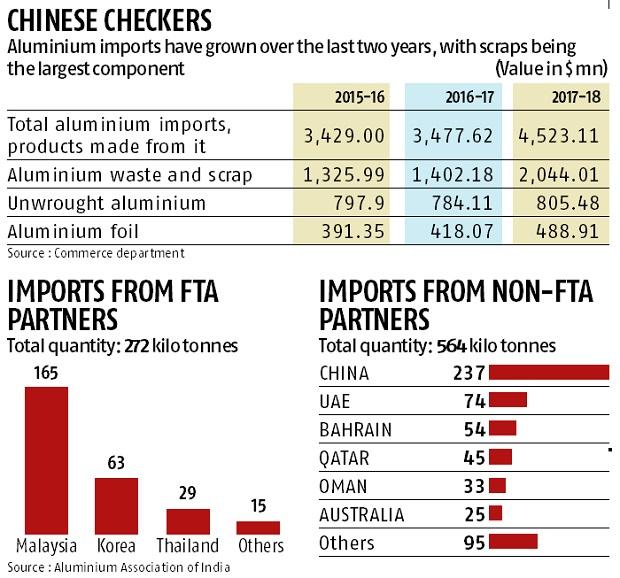 India's aluminium imports rose in the last two years, and a majority of that came from nations, including Malaysia and South Korea, those with which India had trade pacts. Imports rose from $3.47 billion in 2016-17 to $4.52 billion in 2017-18 as global commodity prices saw an uptick. However, the largest component of this, aluminium scraps, mainly originated from China.
The industry also sought government support in other areas. "The primary industry invested around Rs 1 trillion from 2007 to 2015, and doubled aluminium capacity from 2 million tonnes to 4 million tonnes. The investment decision was based on allotment of captive coal and bauxite mines, which would have made the Indian industry the cheapest aluminium producer. But the allotment of the captive coal mines were cancelled by the Supreme Court. By that time projects were built, which now depend on purchased coal," AAI said in the presentation.
The government will study the presentation and take appropriate measures, senior officials said.
---