Indian milk protests could harm Free Trade deal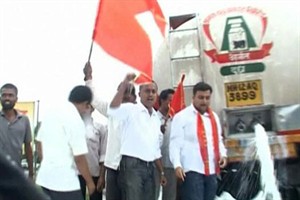 3 News NZ | Sat, 31 Jul 2010
Indian milk protests could harm Free Trade deal
By Tim Lambourne
There is new footage of Indian nationalist protestors draining milk south of Mumbai
Shiv Shena protestors angry over their government's dairy deal with Fonterra drained valuable milk from a tanker and are threatening to torch a Fonterra shipment next month.
Indian media claims the shipment is carrying 30,000 tonnes of milk powder and 15,000 tonnes of Ghee.
New Zealand's Trade Minister Tim Grosner says he fears the situation could set back lucrative Free Trade negotiations with India.
"I'm concerned for the safety of the people involved," Mr Grosner says.
"I have spoken to the Fonterra senior managers and they've got that under very strict control at the moment."
Fonterra said in a statement they won't be releasing any details about their shipping movements for security reasons.
This comes as the New Zealand Government is negotiating a Free Trade agreement with India. Dairy is a vital part of both countries trading, making this issue especially sensitive.
"I am hoping we can work through this in the next year or two year with the Indian negotiators, without too much emotion around it," Mr Grosner says.
"But if you ask me if this is helpful – of course not."
New Zealand-Indian Business Council spokesman Sunit Prakash thinks the protest will help the FTA and says any publicity is good publicity.
"India is like an elephant and there are many butterflies trying to attract its attention," he said.
However Mr Groser is more pragmatic. The Free Trade agreement with China needed 14 formal negotiations – he thinks India will need even more.
---