Indonesian trade minister discussed the RCEP draft at the ASEAN Economic Ministers' meeting
All the versions of this article: [English] [Indonesia]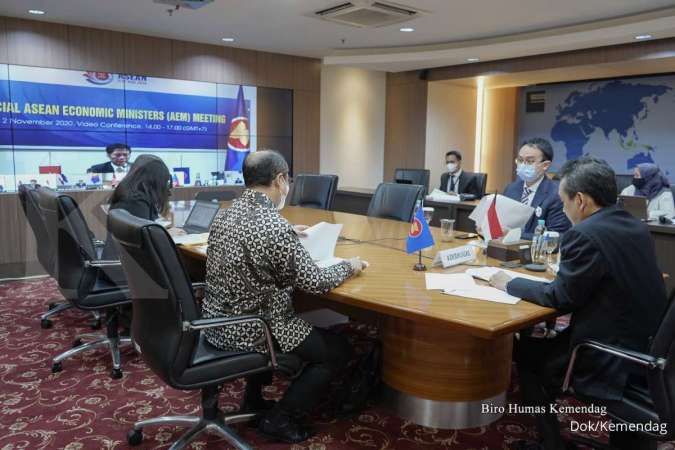 Radar Bangsa - 04 November 2020
Indonesian trade minister discussed the RCEP draft at the ASEAN Economic Ministers' meeting
By Anata Lu'luul Jannah
Minister of Trade Agus Suparmanto attended a virtual 'special caucus' meeting of 10 ASEAN Economic Ministers on Monday, November 2, 2020.
The meeting discussed status of the draft Regional Comprehensive Economic Partnership (RCEP) and consolidated ASEAN countries' position in preparation for the signing of RCEP agreement in this year.
"This meeting is devoted to discussing the status of the RCEP draft and consolidating ASEAN's position in preparation for its signing this year. This is as mandated by the RCEP Heads of State / Government at the 3rd RCEP Summit (Summit) in Bangkok in November 2019, " the Trade Minister said in his official statement, Wednesday, November 4, 2020.
He said, Indonesia as the coordinating country for the negotiations encouraged RCEP member countries to ensure their domestic processes to obtain full power in the signing of the RCEP agreement. This was also needed to be done so that the RCEP agreement could be signed as scheduled on this year.
"Indonesia has processed full power for the signing of the RCEP agreement. So, it is almost certain that Indonesia is ready to sign the agreement that has been negotiated and led by Indonesia for approximately eight years, "said Trade Minister Agus.
The Trade Minister assessed that the RCEP Agreement will send a positive message to the global community that belief in openness and regulation based system trade will bring about future growth prospects for the region.
For information, RCEP is the world's largest regional pact covering 47.4 percent of the world's population, 32.2 percent of the global economy, 29.1 percent of global trade and 32.5 percent of global investment flows.
---