Island will be able to do its own trade deals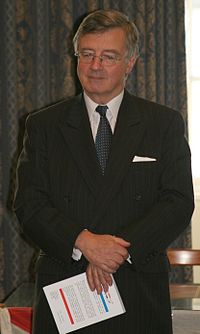 Jersey Evening Post | 16 April 2020
Island will be able to do its own trade deals
Jersey will soon be able to negotiate its own trade deals after finally being given permission by the UK – three years after the request was first made.
As a Crown Dependency and not a sovereign state in its own right, Jersey has to be given an entrustment by the UK to negotiate on its own behalf.
External Relations Minister Sir Philip Bailhache said this 'vital entrustment' had now been agreed in principle and is due to be formally signed off in the next two weeks, allowing Jersey to negotiate its own trade deals – dubbed Bilateral Investment Treaties.
And he confirmed that the United Arab Emirates was set to be the first country that Jersey entered into talks with.
Senator Bailhache admitted that he had been frustrated by the lack of progress in securing permission from the UK but was pleased that that there seemed to be an 'imminent conclusion'.
Bilateral Investment Treaties mean that countries within the agreement are required to treat investing foreign companies in the same way that domestic companies are treated. If, for example, Jersey were to agree a BIT with the UAE, the Gulf state would be obliged to treat Jersey companies in the same way as it would an Arab company.
Senator Bailhache, who is not seeking re-election at next month's election, said: 'We have no natural resources in the Island other than the skills of our people and trade is in our DNA.
'The UK talks a great deal about concluding trade agreements – we talk about BITs but the principle is exactly the same.
'The purpose is to encourage trade to raise living standards for everyone, to permit economic growth and stability and to create new employment opportunities by liberalising flows of investment between two countries.'
Under the terms of a 2007 agreement between the Island and the UK, the UK will support in 'assisting the development of Jersey's international identity'.
Senator Bailhache said he first made the request for Jersey to sign its own agreements in 2015 but had struggled to gain a conclusive answer from the UK government.
'I think Brexit has been a difficult process for Whitehall and this is a new concept for the UK government,' he said. 'It involves officials from a number of departments and the co-ordination of consideration by those different departments has been difficult.
'We have been pressing for quite a long time for a resolution of this request and it is encouraging that we are now very close.'
As part of an overarching Global Markets Strategy, the External Relations Department identified four key regions that it wished to develop close working agreements with – Africa, the Middle East, India and China.
Sir Philip added: 'What they [BITs] do is give confidence to the investor – confidence that the country he is investing in will treat him no less favourably than an investor who comes from the country itself.
'We needed this entrustment [from the UK] to engage in international relationships of this kind.'
---