JPEPA 'edges' toward Senate ratification
ABS-CBN, Philippines | 5 August 2008
JPEPA 'edges' toward Senate ratification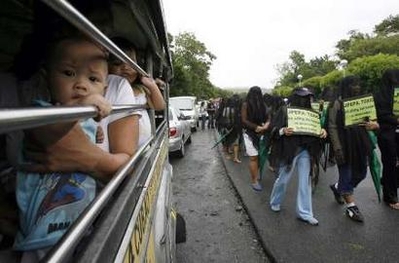 The controversial free trade agreement between the Philippines and Japan is "edging" toward ratification with 12 senators signing a committee report recommending its approval by the Senate, Senator Miriam Defensor Santiago said Tuesday.
Santiago, chair of the Senate committee on foreign relations, said 12 senators have signed the committee report on the Japan-Philippines Economic Partnership Agreement (JPEPA), which seeks to open up the markets of both countries and spur trade and economic growth.
With 20 members in the Senate Committee on Foreign Relations, the 12 signatories constitute a majority vote for a report that recommends concurrence.
"I know so far that at least twelve senators have signed but we are still circulating it. We only need eleven because the total number [in the committee] is only twenty," Santiago said.
The JPEPA could have been killed at the committee level had it failed to get the support of a majority of the members of the Senate committee on foreign relations.
The 12 who have signed the committee report are:
– Without reservation: Edgardo Angara; Juan Ponce Enrile; Manuel 'Lito' Lapid
– With reservation: Mar Roxas; Richard Gordon; Ramon Revilla; Rodolfo Biazon; Miguel Zubiri; Jinggoy Estrada (with serious reservation); Francis Pangilinan (without prejudice to sec 24. par. 4); Aquilino Pimentel; Joker Arroyo (in the absence of an indispensable curative side agreement, he is constricted to hold his concurrence)
However, Santiago said this is still four signatures short to get the JPEPA ratified by the Senate.
High chance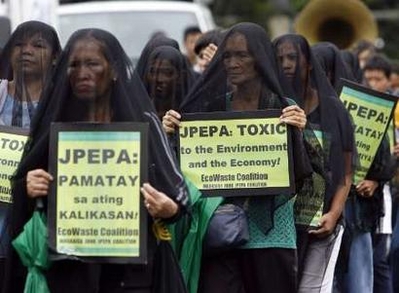 "We already have twelve yesterday, and I don't know of any more they are able to gather. That is only to authorize me to make the committee report and sponsor it tomorrow. Our problem is to get the two-thirds vote," she said.
But Santiago said chances are "high" that the JPEPA will be ratified by two-thirds of the Senate.
"My hopes are high that we will be able to get the two-thirds vote-that would be around fifteen or sixteen. We already had twelve yesterday, and we might even be able get that vote at the committee level alone. In effect, that will be anti-climactic if we get fifteen or sixteen," she said.
To address the concerns of the Senate on possible violations of JPEPA on the Constitution, Santiago said the Japanese foreign minister has authorized its ambassador in Manila to "enter into an exchange of notes...so that all constitutional provisions in our Philippine Constitution that conflict with JPEPA will be deemed dominant or superior to the JPEPA provisions."
She said she hoped that this exchange of notes will allow her to secure more votes in favor of the JPEPA's ratification.
"It is edging towards ratification, and I hope that will convince them tomorrow because we will lose a lot in terms of economic benefits if we do not concur," she said.
Investment diversion
In case the JPEPA is not ratified, Santiago said Japanese foreign direct investment and earnings from Philippine exports to Japan may go to other Southeast Asian countries where Japan has economic partnership agreements.
"We will be the odd man out. Since the constitutional provisions, of which I am very adamant for the past year, have already been accepted by Japan, I have no more problems with it as a constitutional law scholar," she said.
Santiago said she expects the JPEPA ratified "within September."
After Santiago sponsors the report tomorrow, this will be followed by a period of interpellations, after which a final vote on the floor is made.
Failure to get two-thirds on the floor would mean a rejection of the treaty by the Senate.
Aside from violating the protectionist provisions in the Constitution, critics of the JPEPA believe it may lead to the entry of Japanese toxic and hazardous wastes and would harm some Philippine local industries such as steel, due to the entry of cheaper Japanese industrial products.
---